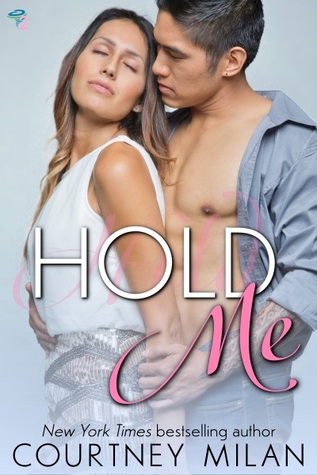 | Amazon |
Rating: ★★★★☆
Release Date: October 25th, 2016
Trigger Warnings: transphobia, suicide mentions
Pages: 303
Genre: contemporary, romance, new adult, LGBT+
Goodreads blurb:
Jay na Thalang is a demanding, driven genius. He doesn't know how to stop or even slow down. The instant he lays eyes on Maria Lopez, he knows that she is a sexy distraction he can't afford. He's done his best to keep her at arm's length, and he's succeeded beyond his wildest dreams.

Maria has always been cautious. Now that her once-tiny, apocalypse-centred blog is hitting the mainstream, she's even more careful about preserving her online anonymity. She hasn't sent so much as a picture to the commenter she's interacted with for eighteen months—not even after emails, hour-long chats, and a friendship that is slowly turning into more. Maybe one day, they'll meet and see what happens.

But unbeknownst to them both, Jay is Maria's commenter. They've already met. They already hate each other. And two determined enemies are about to discover that they've been secretly falling in love…
 R E V I E W
Hold Me is my second Courtney Milan book, which also happens to be the second in the Cyclone series. I also think I have discovered a new favourite trope, which is always exciting. The trope in Hold Me is that the two characters have been talking online for some time without knowing their real identities, however, despite this they do know each other in real life and they hate each other. This was such a great book. I really loved the chemistry between Jay and Maria, as well as the communication between them. At stages, I thought the trope was going to be drawn out to death but Courtney Milan handled it perfectly, in my opinion, with an excellent reveal. I'm going to try and keep this review short, simply because I don't have much to say about Hold Me apart from read it.
Maria is a trans-woman who is studying at college and writing a blog that is super technical, I was so confused during these conversations. She has been through a lot in her young life, particularly with her family disowning her. Jay has also been through a lot. Being the popular kid in high school and parents who are always busy with work was a great life. That is until Jay's little brother commits suicide. Throwing the family off its hinges and leaving Jay feeling like a failure. Both Maria and Jay are struggling still with their pasts, but whereas Jay is sullen and moody Maria is loud and outgoing. It was such a delightful mix, especially viewing both their conversations online and in person. The chemistry between the pair is undeniable and watching the pair fall for each other made my little heart scream in delight. There isn't a lot of plot in Hold Me, especially compared to Trade Me, but I loved it so much so I'm not bothered. The characters are absolutely amazing.
∇ what I liked ∇
✗ DIVERSE CAST
Courtney Milan has a diverse cast in all her books, I believe, but I feel like it needs to be mentioned. Maria is a Latina trans-woman and Jay has an Asian background (I can't remember exactly, but it is specified on in the book). It is also so refreshing to see characters that aren't white.
✗ REALISTIC CIRCUMSTANCES
There was something about Hold Me that just felt so real. I'm not even sure I can begin to even describe it. The circumstances and experiences of each character was simply so raw and emotional. The author did an incredible job of adding the layers to the characters. I don't know how Courtney Milan can add so much depth in such a short book but I am beyond impressed. I have no words.
✗ WRITING IS SPECTACULAR
Look, there is something about Courtney Milan's writing that is so jaw dropping and engaging. Her books are so easy to read in a day I'm finding and every time I finish one I am left itching for more. Which, for me, is the sign of an amazing writer. I truly am unable to tell you what it is. It is something you need to experience for yourself.
∇ what I didn't like ∇
✗ ENDING WAS TOO FAST
This book ended too fast. It felt that we barely got time for Jay and Maria to reconcile before I had hit the acknowledgments. I gasped when I turned the page and I was done. I know the characters appear in other stories so we will see them again but I really feel as if I was cheated out of a bit of a longer ending. I wanted to see a bit further into the future and see how Jay and Maria are doing, as well as maybe getting more interactions between the pair and Maria's brother.
Overall, I am so excited to read more of Courtney Milan's work. I love all the characters she creates and the backstories of all her characters are truly ones that tug at your heartstrings. I truly recommend her books if you're in the mood for a romance. It is definitely not a fluffy romance though, so be warned. It touched on a bunch of serious topics. There is also a lot of tech and science-based conversations which, if you're like me, can leave you very confused.
Happy reading everyone!
 | Instagram | Twitter | Goodreads |
If you use my Book Depository link I will receive a 5% commission from your order at no expense to you. I would sincerely be grateful if you chose to use it.
The same goes for my Booktopia link, which is a great service for Aus and NZ residents.