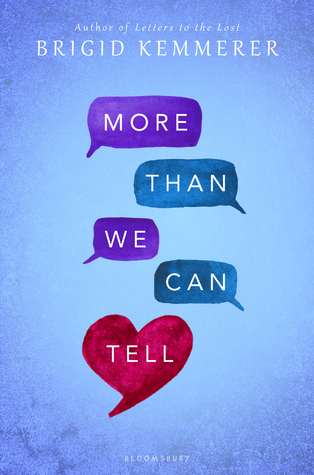 | Book Depository | Booktopia | Amazon |
Rating: ★★★★★
Release Date: March 6th, 2018
Trigger Warnings: homophobic comments (challenged), rape, abuse (graphic), racism, divorce, sexual harassment, harassment, kidnapping (?), PTSD, anxiety, violence
Pages: 416
Publisher: Bloomsbury Publishing
Genre: young adult, contemporary, romance
Goodreads blurb:
Rev Fletcher is battling the demons of his past. But with loving adoptive parents by his side, he's managed to keep them at bay…until he gets a letter from his abusive father and the trauma of his childhood comes hurtling back.

Emma Blue spends her time perfecting the computer game she built from scratch, rather than facing her parents' crumbling marriage. She can solve any problem with the right code, but when an online troll's harassment escalates, she's truly afraid.

When Rev and Emma meet, they both long to lift the burden of their secrets and bond instantly over their shared turmoil. But when their situations turn dangerous, their trust in each other will be tested in ways they never expected. This must-read story will once again have readers falling for Brigid Kemmerer's emotional storytelling.  

R E V I E W
More Than We Can Tell wasn't perfect but it has become of my favourite books so quickly it is slightly scary. This book was one that tugged at my heartstrings instantly and made me desperately need a hug. I mentioned this in my review for Letters of the Lost but I actually read this book before the first (oops) so all my emotions hadn't been stepped on or crushed just yet. This book is such an interesting portrayal of internet friendships, judgment and learning to forgive. That sounds like a weird mix right? Trust me, this book is a bundle that will make you flinch at the rawness of the storyline. This book went to so many places I was and wasn't expecting. It touched on topics I wasn't expecting it too and I am ultimately shocked that Brigid Kemmerer did that. I tried to include every trigger I could think of from this book because I want people to be aware of the fact this is not a fluffy book as I did. This book contains very heavy materials that can trigger a number of people so please approach with caution and practice self-care techniques.
I believe that More Than We Can Tell is a lot heavier than Letters To The Lost. This book focuses on Declan's best friend Rev Fletcher, a young man who is battling demons with the support of his adoptive parents. At a young age, Rev was taken away from his father due to abuse. Rev's father used religion and the Bible as reasons to hurt his son in horrific ways and this in itself is something that will sit with you. Rev receives a letter from his father just after his 18th birthday and it sends him spiralling as the trauma of his childhood comes back to him. A note here: I will not be mentioning religion throughout this book. It is central to the plot of the book but as an atheist, I feel this is something that I can not speak on. Emma Blue is the opposite. In my opinion, she is spoilt and has not experienced a horrific trauma. She loves coding and has built a game from scratch but when an online troll starts to harass her things suddenly change. The pair meet by chance by a church and strike up an unexpected friendship that eventually leads to more. The bond between the pair is almost instant due to the fact they are both struggling due to their personal reasons. The situations for both slowly turn dangerous and the only ones that can help them are each other.
I want to briefly mention that the reason this book meant so much to me is the victim of parental abuse. Rev is, for me, a great example of what it is like to come out on the other side but to still hold that guilt and grief and the 'what if'. I really believe that Brigid Kemmerer dealt with such a serious topic in a sensitive way.
Now, enough ramble, time to get into what I did and didn't like about More Than We Can Tell.
what I did like
✗ TRAUMA PORTRAYAL WAS SO RAW
This is obviously the biggest point I have for this book. What Rev goes through is so raw and real despite the fact he hasn't seen his father in ten years. The trauma of abuse is not something that you can shake. This is something that Brigid Kemmerer could have easily screwed around with and not handled delicately but I think she did an excellent job of highlighting the lasting effects.
✗ MESSAGE THAT YOU HAVE TO MAKE YOU HAPPY NOT SOMEONE MAKE YOU HAPPY
This is really just real family issues. I won't touch on it too much because it is quite a large spoiler but I think that this message of making yourself happy and not someone else happy is a strong theme carried through this book. I remember last year Will Smith made an Instagram video where he discussed this topic in relation to his wife Jada. The fact the pair had relied on one another to be happy but really needed to make themselves happy first. It was truly powerful to see that carried through in a YA book.
✗ MALE FRIENDSHIPS
This friendship was something that was big in the first book but I feel that looking at it through Rev's eyes gave it a whole new layer. A layer it really did need and I appreciate. YA fiction really does lack strong friendships in a whole but I really feel as if the male friendships in this series are what we need in this world. Men supporting men is all I want.
✗ THERE'S A DOG!!
Not much to say here. I just love dogs. Spoiler, the dog lives the entire book and doesn't as well.
✗ HARASSMENT PORTRAYAL IN THE GAMING WORLD
Emma is a gamer girl and as I said earlier this book really shows the harassment that women go through in the gaming world. This is really central to the plot in More Than We Can Tell and at some points does feel like it is being painted as more serious than what Rev is experiencing. However, the harassment portrayal is pretty spot on from what I've read in reviews. Women face harassment simply for playing video games and it doesn't make sense that this is a 'mans world'.
what I didn't like
✗ WHERE ARE MY FEMALE FRIENDSHIPS?!
The one female friendship we have is with Emma and her best friend. A best friend whose name I have forgotten because her only purpose is for Emma to ridicule her. The best friend is super into makeup and exploring designs on her YouTube channel. Emma spends most of the book laughing at her behind her back and making snarky comments to her face. This best friend played Emma's game for months in a show of support but Emma is unable to show it back. By the end of the book she hasn't even rectified her behaviours and it was so frustrating because the friend really did deserve better.
✗ NOT ENOUGH TIME SPENT ON MATTHEW
I wanted to see more of a connection built between Rev and Matthew. The pair are foster brothers in the same house who have both experienced different kinds of trauma. I feel that they really could have been a great support for each other but the book cut off before we were really able to see this grow.
✗ WEIRD LOVE TRIANGLE
There is a strange love triangle between Emma, Rev and Emma's gaming friend Ethan. It really didn't add much to the plot and, honestly, made me super uncomfortable. I am just not a fan of love triangles though. I told my friend the other day that when there is a love triangle I always choose one character and the other becomes meaningless to me that was similar in this case. I won't say too much because of spoilers though.
✗ EMMA WAS TOO UNLIKEABLE
I know, I never thought I'd say it. At times Emma's attitude irked me. She was still compelling, overall, but the way she treated her parents was infuriating. She was dramatic and constantly had a problem with the fact her mum wanted to best for her. It was so frustrating and at times I wanted to reach into the book and slap her. It was just so annoying to see good YA parents being treated poorly by her. With no consequence too.
Overall, More Than We Can Tell clearly had its problems. But, it is still a five star read for me despite all this. I am simply not able to get over how much I loved and enjoyed this book to lower my rating even a smidge. The character Rev is truly the saving grace of this story and his own personal story will stick with me for a long time. I do recommend this book but do not go in expecting a masterpiece because that is not what this is.
Happy reading everyone!
 | Instagram | Twitter | Goodreads |
If you use my Book Depository link I will receive a 5% commission from your order at no expense to you. I would sincerely be grateful if you chose to use it.
The same goes for my Booktopia link, which is a great service for Aus and NZ residents.
*links used in this review are affiliate links*