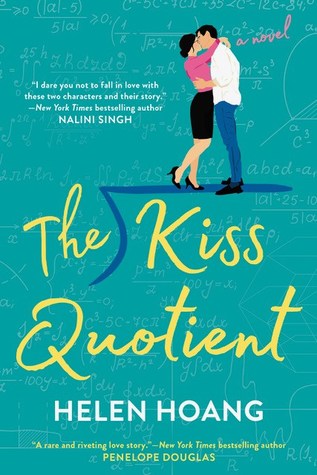 | Book Depository | Booktopia | Amazon |
Rating: ★★★★★
Release Date: June 5th, 2018
Pages: 336
Publisher: Berkley
Genre: adult, contemporary, romance
Goodreads blurb:
Stella Lane thinks math is the only thing that unites the universe. She comes up with algorithms to predict customer purchases–a job that has given her more money than she knows what to do with, and way less experience in the dating department than the average thirty-year-old.

It doesn't help that Stella has Asperger's and French kissing reminds her of a shark getting its teeth cleaned by pilot fish. Her conclusion: she needs lots of practice–with a professional. Which is why she hires escort Michael Phan. The Vietnamese and Swedish stunner can't afford to turn down Stella's offer, and agrees to help her check off all the boxes on her lesson plan–from foreplay to more-than-missionary position…

Before long, Stella not only learns to appreciate his kisses, but to crave all the other things he's making her feel. Soon, their no-nonsense partnership starts making a strange kind of sense. And the pattern that emerges will convince Stella that love is the best kind of logic…
R E V I E W 
The Kiss Quotient is officially in my top five books of 2018. I read this in literally one sitting and couldn't put it down at all. It was truly an experience that I love. This book had it all, but down to its core, it was a sexy, smart romance that focused on consent. I will warn you, as I typically do with all my five-star reviews, this review is a mess. My excitement for this book is truly all over the place and I can only really simmer it down to one comment: buy this book. I don't think it's fair that so many debut romances are crushing my heart. I can't handle having so many new favourite authors.
To be honest, the synopsis of The Kiss Quotient is perfect but I'm going to attempt to describe it anyway because this is the section of my review in which I do that. This book is told in both the perspective of Stella Lane and Michael Phan. Stella Lane is one who sets the events of the romance into action in this book. As a thirty-year-old woman with autism, she is facing pressure from her parents to give them grandchildren and mild ridicule from her colleagues about her sexual experiences. She decides the best way to do this is to hire a male escort in order to learn how to enjoy sex. This is where Michael Phan comes in. Michael is incredibly careful and carrying of Stella, breaking his own rule of not seeing a client more than once. The pair pushes each other out of the comfort zones that they've created due to their personalities. Michael is caring for his sisters and mother with a fear that he will be like his father, a con artist. Both are very stubborn and the relationship that forms between them is honestly so beautiful. I don't want to say much because I don't want to spoil anything. I will say this again pick this book up. It is truly an incredible book that I think is up the alley for everyone.
Time to stop subtly spoiling things and go into detail about what I liked and didn't like about the Kiss Quotient. Spoiler? There is only one dislike and it is only me being picky.
what I liked
✗ SMART SEXY HEROINE
Stella Lane is smart and she is not ashamed of it. She is sexy and she is really an incredible main character. Helen Hoang writes Stella in such an empowering way. I can't speak on personal experiences here, but I also feel as if the autism representation of Stella is very well done and handled delicately throughout the storyline.
✗ LOVE INTEREST IS THE NEW JOSH TEMPLEMAN
I think my love for Sally Thorne's The Hating Game has been made pretty clear during my time as a reader. However, Michael Phan knocks Joshua Templeman straight out of the park. Michael would beat Joshua senseless. Michael is truly one of the most swoon-worthy main characters. He is truly the man that I would love to have in my life. He is caring, sweet and his relationship with his family is something that I will love for the rest of my life.
✗ SUCH AN EASY STEAMY READ
This is really a short point. This book had the perfect sex scenes, honestly. They really sizzled and created a great basis for the book.
✗ CONSENT IS A BIG FOCUS
As mentioned earlier, Stella has a problem with people touching her. She isn't a fan and the three sexual encounters she has had haven't gone well. Michael realizes this the first night the two share and doesn't even have sex with her. He decides that making her comfortable is priority and not to do anything unless he has complete consent. Honestly, for anyone who complains that consent isn't hot read this book. It proves you 100% wrong.
what I didn't like
✗ FAST ROMANCE
The romance happened a little too fast for me. I believe it was over a month or two month period? It just made me feel a bit off in some places. I feel we should have seen more of the characters getting to know each other as well. Obviously, if the author had included everything the book would have been too long but I wouldn't have minded an extra 80 or so pages of just Michael and Stella getting to know each other.
Overall, there isn't a lot I can say about The Kiss Quotient. I feel this is simply a feel-good story that creates the layers for you as you read. It is definitely a book I will recommend to everyone though. This story is truly one that has something for everyone. I feel that no matter what genre you do read that you will enjoy this contemporary romance. I am so excited to write up my favourite books of 2018 list because I know this will be sitting at number one.
Happy reading everyone!
 | Instagram | Twitter | Goodreads |
If you use my Book Depository link I will receive a 5% commission from your order at no expense to you. I would sincerely be grateful if you chose to use it.
The same goes for my Booktopia link, which is a great service for Aus and NZ residents.
*links used in this review are affiliate links*