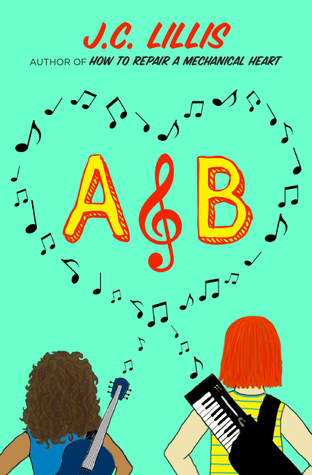 | Book Depository | Booktopia| Amazon |
Rating: ★★★★☆
Release Date: November 29th, 2016
Trigger Warnings: heartbreak, biphobic comments
Pages: 326
Genre: young adult, romance, contemporary, LGBT+
Goodreads blurb:
Eighteen-year-old Barrie Krumholtz is a super-tall optimist hell-bent on a single goal: securing a slot on Pop University, a reality show for singer-songwriters helmed by her #1 musical idol. When she humiliates herself on national TV and loses a spot in the finals to smug balladeer Ava Alvarez, the door to Barrie's well-hidden dark side swings open. Never a quitter, she uses her bitter envy of Ava to shape a bold new artistic direction, and people love it. But when Ava ropes her into a secret collaboration, it sparks feelings neither girl expected—feelings that might threaten their creative identities and distract them from their professional goals. 

Can love and ambition live side by side? Is happiness an art-killer? They'll figure it out with the help of a blue guitar named Fernando, a keyboard named Rosalinda, and a few new friends who feel like home.
R E V I E W  
I don't know what I expected going into A&B but it definitely wasn't what I got. I didn't guess a single thing that would happen throughout this book and at times I was shocked at the direction in which the plot took (especially the end). This story was definitely a fluffy one that didn't have too much angst throughout. It really spoke about doing what speaks to you and how sometimes you should follow your heart.
A&B is a fun f/f story starring a bisexual girl named Barrie. She is a massive fan of a singer named Tera and tries out for a show she hosts called Pop U. Unfortunately, Barrie gets voted out in the first round basically because she is too happy and kind – something that is because of her idol Tera. After she loses her wig falls off as well, revealing her scalp to the world (something she has only shared with one other person). Being booted off the show was a real kick to the confidence but after meeting the characters from the first book in the series, that I'm a moron and didn't read first, the group put on a show that is sparked by 'Evil Barrie'. It gains attention quickly and is focused mainly on the jealously Barrie feels towards the girl who beat her into the show, Ava. The pair spark an unlikely alliance though as Barrie needs Ava to keep her jealous and Ava needs help writing songs. The pair are an unlikely duo but it works so well. I rooted for them the whole book and despite the mess that embarks between them it is so sweet. This book is a super easy and fast read. I definitely recommend it, especially since it is currently Pride Month.
what I liked
✗ LOVED THE CHALLENGE ATMOSPHERE
I'm a competitive person. Majorly competitive. Last year an old friend of mine and I challenged each other to who could read more books. She beat me and I am still salty despite the fact we aren't friends anymore. So reading a book where there is a competitive element is straight up my alley.
✗ ROMANCE HAPPENS ORGANICALLY
I've read so many books lately where the romance just feels forced on me. I definitely felt that the romance in this book was perfectly done. From the girls coming out to each other, Barrie as a bisexual and Ava as a lesbian, to the actual on-page sex scene that happened, it is all simply great. I really have no words to describe how I feel.
✗ ENVY ISNT BAD
A lot of time in storylines envy and jealousy are portrayed as bad things that the main character must ignore. However, A&B really embraces envy at its core. It really feels as if it highlights that envy can inspire you creatively and provide you your best work. As I mentioned before I am a very competitive person, so I obviously combat with envy and jealousy when it comes to people doing better than me. These things make me work harder which is exactly what Barrie does throughout this book.
what I didn't like
✗ STORYLINE WAS A LIL CLUNKY
Not only was the storyline a little bit clunky at parts – big chunks of time missing – but it also dragged occasionally. As cute as Brandon and Abel were their story inclusion was really a waste of paper. I know it was a way of including the first book but it really did make me frustrated because they got more page time than Ava and Barrie.
✗ CHARACTERS NOT TOO FLESHED OUT
I think this was a problem because we focused on Brandon and Abel, two characters who had been fleshed out in their own book. Due to them getting so much page time I really feel as if we didn't get to know Ava and Barrie as well as I wanted to. The storyline also contributed to this in the way that the characters were all over the place. Additionally, the characters really didn't feel like they were there for me. I feel the author could have done better in creating three-dimensional characters.
✗ SHOWED ITS BAD TO MEET YOUR IDOLS
I know not every time someone meets his or her idol it goes well. I know that it is best to have realistic expectations. However, I really feel what Barrie experienced is unrealistic and disappointing. Definitely not something to promote throughout a young adult book I feel. As someone who has never met their idols as well seeing someone's experience go sourly wasn't something I really want to read.
Overall, A&B was one of the most enjoyable books I have read. The f/f romance was super sweet and the story was fun. It did have its flaws, including the fact it felt like it dragged in some parts. I don't have much to say. I still recommend this book highly.
Happy reading everyone!
 | Instagram | Twitter | Goodreads |
If you use my Book Depository link I will receive a 5% commission from your order at no expense to you. I would sincerely be grateful if you chose to use it.
The same goes for my Booktopia link, which is a great service for Aus and NZ residents.
*links used in this review are affiliate links*