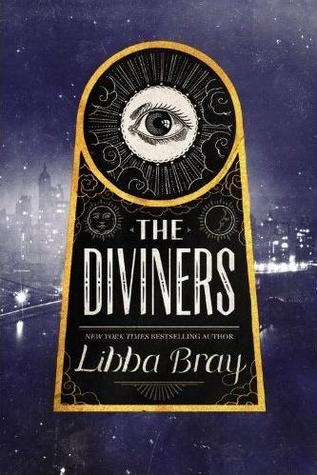 | Book Depository | Booktopia | Amazon |
Rating: ★★★★★
Release Date: September 18th, 2012
Trigger Warnings: domestic violence, parental violence, homophobia, homelessness mentions, underage drinking, abortion, rape, racism, death, murder
Pages: 578
Publisher: Little, Brown Books for Young Readers
Genre: young adult, fantasy, historical fantasy, paranormal, mystery
Goodreads blurb:
Evie O'Neill has been exiled from her boring old hometown and shipped off to the bustling streets of New York City—and she is pos-i-tute-ly ecstatic. It's 1926, and New York is filled with speakeasies, Ziegfeld girls, and rakish pickpockets. The only catch is that she has to live with her uncle Will and his unhealthy obsession with the occult.

Evie worries he'll discover her darkest secret: a supernatural power that has only brought her trouble so far. But when the police find a murdered girl branded with a cryptic symbol and Will is called to the scene, Evie realizes her gift could help catch a serial killer.

As Evie jumps headlong into a dance with a murderer, other stories unfold in the city that never sleeps. A young man named Memphis is caught between two worlds. A chorus girl named Theta is running from her past. A student named Jericho hides a shocking secret. And unknown to all, something dark and evil has awakened.
R E V I E W
The Diviners by Libba Bray has been on my TBR for some time now. Every time I've gone to pick it up I've been intimidated by the sheer size of this book. It is a pretty thick book and I am someone who never knows how a book will hold my attention. I'm not sure what drove me to finally pick up this paranormal treat but I am so glad I did! Even if I did choose to pick it up in my first week of university (oops). The Diviners is an absolutely delightful treat that I feel has something for everyone. With a diverse group of characters, who all get their moment in the spotlight, and a plot that you simply can't forget this story is one that I know I will be highly recommending for months on end. I have so many positive things to say about this book that I don't even know where to begin. I want to start with the fact that you need to read this. Even if you're afraid of the sheer size of the book, like me. It is such a treat that I know everyone who reads my blog will enjoy.
Some fun facts though. I discovered Libba Bray's books in my first year of high school and absolutely fell in love with her writing. I'm so shocked that it has taken me basically ten years to continue with her works. Also, this was the first book I have listened to partially on audiobook and I loved it.
What is The Diviners about? I'm sure your curious after me urging desperately for everyone to read it. Well, this book follows a series of teenagers in 1920's New York. The era of flapper girls and where racism was still very apparent in the streets (I guess it still is). The story doesn't end there though, this book is about a group of teenagers fighting evil spirits or entities that come to the city and do some terrible things. The plot follows several different characters and you get basically everyone's backstories. Including the murderers. Not only that but you get the perspective of the murderer. At first this was something that frustrated me as I wanted a bit of mystery, but as the book continued I found myself getting chills down my spin when his chapters came along due to the sheer creepiness. I honestly can't say too much on this book as a whole because it will begin to spoil this story for you and if you haven't yet read it I definitely don't want to give away things.
Libba Bray just weaves this intricate world that really screams at you. Due to the urban fantasy setting the world building is sneakily interwoven into the story in a way that leaves you basically breathless at how well it is done. I am not someone who typically enjoys books that head into the paranormal area but this book was in another playing field completely. I can't wait to continue and fall more in love with these characters.
I'd have to say that Theta and Henry were my two favourite characters in this book. They both had difficult upbringings and to see them working together to accomplish their goals (and be so beautifully platonic friends) was something that I feel Libba Bray did amazingly well. There is a whole chapter dedicated to Theta's backstory and I actually listened to it while vacuuming my house and I was sobbing by the end of it – which made mopping the floors even easier.
All the characters though are just so filled with depth. I can't say I can remember the last time I read a fantasy book with characters who are so well created and utterly amazing. I am basically speechless on this book and I am really struggling to even begin to format my words on this one.
I think my only complaint about The Diviners is that there are hints of a love triangle forming. If you've read any of my past reviews you know I despise love triangles. I have a nasty habit of choosing one person and absolutely despising the other. I can't help it. I even hate Jem from The Infernal Devices because I can't love two. It is a difficult mess. While I didn't want this book to end I also wanted Evie to hurry up and choose a man so my torment could end – spoiler, she doesn't choose anyone by the end of this book.
Overall, The Diviners is well worth the hype it receives. I haven't read a book with fantasy elements in a long time but I know this one has shot to my favourite books of 2018. It is truly a story that is woven so beautifully. I can't help but highly recommend it because I truly think everyone will love it.
Have you read The Diviners? What did you think about it? Who was your favourite character? Tell me in the comments!
Happy reading everyone!
| Instagram | Twitter | Goodreads |
If you use my Book Depository link I will receive a 5% commission from your order at no expense to you. I would sincerely be grateful if you chose to use it.
The same goes for my Booktopia link, which is a great service for Aus and NZ residents.
*links used in this review are affiliate links*