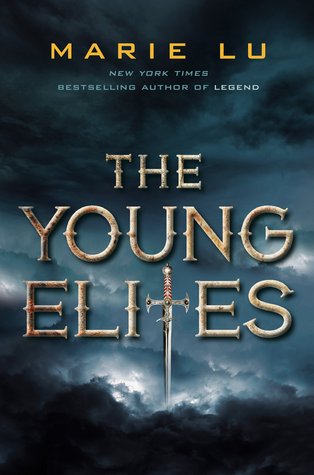 | Book Depository | Booktopia | Amazon |
Rating: ★★★★☆
Release Date: October 7th, 2014
Trigger Warnings: death, murder, abuse, emotional abuse, torture
Pages: 335
Publisher: G.P. Putnam's Sons Books for Young Readers
Genre: young adult, fantasy, magic, romance
Goodreads blurb:
I am tired of being used, hurt, and cast aside.

Adelina Amouteru is a survivor of the blood fever. A decade ago, the deadly illness swept through her nation. Most of the infected perished, while many of the children who survived were left with strange markings. Adelina's black hair turned silver, her lashes went pale, and now she has only a jagged scar where her left eye once was. Her cruel father believes she is a malfetto, an abomination, ruining their family's good name and standing in the way of their fortune. But some of the fever's survivors are rumored to possess more than just scars—they are believed to have mysterious and powerful gifts, and though their identities remain secret, they have come to be called the Young Elites.

Teren Santoro works for the king. As Leader of the Inquisition Axis, it is his job to seek out the Young Elites, to destroy them before they destroy the nation. He believes the Young Elites to be dangerous and vengeful, but it's Teren who may possess the darkest secret of all. 

Enzo Valenciano is a member of the Dagger Society. This secret sect of Young Elites seeks out others like them before the Inquisition Axis can. But when the Daggers find Adelina, they discover someone with powers like they've never seen. 

Adelina wants to believe Enzo is on her side, and that Teren is the true enemy. But the lives of these three will collide in unexpected ways, as each fights a very different and personal battle. But of one thing they are all certain: Adelina has abilities that shouldn't belong in this world. A vengeful blackness in her heart. And a desire to destroy all who dare to cross her.

It is my turn to use. My turn to hurt.
 R E V I E W 
After disliking The Young Elites by Marie Lu the first four times I tried to physically read it it's definitely confusing that I decided to pick it up once more. This time I figured I'd give the whole audiobook thing another shot – after listening to parts of The Diviners on audio and enjoying. I walk my dog a lot, listen on 2 times speed and ended up travelling three hours on public transport so I basically threw through this book. I'm so glad to say that my fifth time trying I loved it. The depth of this book was mind-blowing. The characters and how they grew throughout the story. Just wow. My best friend, Alex, and I have a thing for anti-heroes as well, which Adelina is definitely. The twists to her characters let me speechless on the train and wanting to screech (I did my best not to).
I'm sure everyone's dog knows the plot of The Young Elites since it has been a hyped series since it released in 2014. If not, here we go. Years ago a deadly fever swept through the country. Hundreds of thousands were infected. Thousands died. Some survived. However, strange things happened to some of who survived. Strange markings adorned them and they were labelled as faulty. Adelina lost her eye during this fever and her hair went white. This is something that causes her father deep pain because having a daughter who is tainted is bad for business. These individuals with the strange markings are believed to have powerful gifts though. With a group running around labelling themselves The Young Elites. After Adelina is caught and exposed for her gift she is taken in by The Young Elites. Who can she trust though with one of the king's men threatening her sister?
I feel like the best part of The Young Elites was seeing Adelina's growth. Going from an innocent character who had been so viciously mistreated by her father grow into a powerful character who should be feared to one who you definitely should not cross was powerful. Marie Lu captured the transformation perfectly throughout this book that left me cheering. It is beyond clear that as Adelina's power grows so does the darkness within her and, honestly, it was so fucking awesome.
Honestly, I am so tired of good main characters who want to save the world. Can we get a character who wants to see the world burn and be the one to do it? I feel like this is what The Young Elites are delivering and I am so fucking pumped to read the next books. I know a spoiler for the third book, shout out to everyone who posted it as their status updates on Goodreads when it first came out, but honestly, I don't think it will bother me (famous last words?). Morally grey characters are changing my life though and authors need to jump on this trend now.
The book is also super diverse. Like, fuck yes? I shouldn't be surprised though. This is the third Marie Lu book I've had the privilege of reading and it is not a disappointment at all. Seeing so many people of colour, having LGBT+ rep and characters with physical flaws rising to the top is where it is at. I honestly don't know why it took me so fucking long to finish this book because it is fucking incredible.
The other big thing I loved about The Young Elites was the sibling relationship. It truly read like a sibling relationship of two who had been raised in the same house but treated differently. It is something I have experienced and honestly, the representation of it was bringing tears to my eyes when I was walking my dog – which was a straight up mess honestly. It is so good to see these things in books, for me, because not every duo of siblings bands together against the abuse one receives, there is jealousy and undertones of hatred which Adelina definitely felt towards her younger sister.
I have two annoyances with this book, one of which is simply my own fault. Since I was listening strictly via audiobook there were sections in which I tuned out and didn't really listen in some parts. I had to actively listen which I found difficult due to being someone who can easily tune out background music. However, despite the fact I did this I never really felt lost with the plot which was great.
My other dislike for The Young Elites had to be the romance that Adelina had. I didn't feel it, nor did I actually ship it. It felt real last minute and rushed in some places. Definitely not something that made me want to continue listening, honestly.
Overall, despite my two tiny flaws for this book I loved it. It was super twisty and left me speechless in so many parts. It was truly such a treat to read – listen to. This book was completely action-packed as well and as someone who thrives on plot-driven stories, this is what I needed. I am so excited to continue this series and I can't wait to see what Marie Lu does next!
Happy reading everyone!
| Instagram | Twitter | Goodreads |
If you use my Book Depository link I will receive a 5% commission from your order at no expense to you. I would sincerely be grateful if you chose to use it.
The same goes for my Booktopia link, which is a great service for Aus and NZ residents.
*links used in this review are affiliate links*