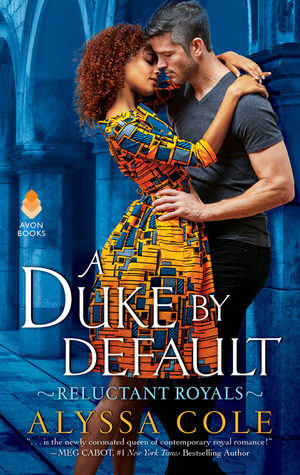 | Book Depository | Booktopia | Amazon |
Rating: ★★★★☆
Release Date: July 31st, 2018
Trigger Warnings: alcohol, divorce mentions, a character is drugged without their consent
Pages: 374
Publisher: Avon
Genre: contemporary, romance, adult
Goodreads blurb:
New York City socialite and perpetual hot mess Portia Hobbs is tired of disappointing her family, friends, and—most importantly—herself. An apprenticeship with a struggling swordmaker in Scotland is a chance to use her expertise and discover what she's capable of. Turns out she excels at aggravating her gruff silver fox boss…when she's not having inappropriate fantasies about his sexy Scottish burr.

Tavish McKenzie doesn't need a rich, spoiled American telling him how to run his armory…even if she is infuriatingly good at it. Tav tries to rebuff his apprentice, and his attraction to her, but when Portia accidentally discovers that he's the secret son of a duke, rough-around-the-edges Tav becomes her newest makeover project.

Forging metal into weapons and armor is one thing, but when desire burns out of control and the media spotlight gets too hot to bear, can a commoner turned duke and his posh apprentice find lasting love?
 R E V I E W 
A Princess In Theory | Review
A Duke By Default was as amazing as I thought it would be. I could basically end this review here. Alyssa Cole is a magician when it comes to writing and I need to read their entire backlist. This Reluctant Royals series is fuelling my heart. I absolutely adore stories with royals, as I mentioned in my review for A Princess In Theory (click here) like fifty times. This book had me smiling basically the whole way through. It wasn't a book I would have picked up a year ago but I am so glad that my tastes have changed because missing out on this series would be my worst nightmare now.
I'm going to try and keep this review short (how many times have I said that?) because I am three reviews behind and I don't want to spoil anything in this one.
A Duke By Default is told from dual perspectives between Portia and Tavish.
After the events of A Princess In Theory Portia Hobbs, New York Socialite and self-appointed 'fuck up', is off to Scotland in order to apprentice as a sword maker. The goal is for Portia to completely revamp herself, she is over being the disappointment and screw around for everyone she knows. She is tired of being a failure. To the shock of Portia she is good at this apprenticeship and despite the fact it is only three months long, she finds herself wanting to be there longer. That definitely be because of her sexy, older boos Tavish McKenzie though. No. Tavish is gruff and doesn't hide the fact he doesn't want Portia in his business, he believes he's doing well despite the decline in sales he's had. Then Portia discovers some news that throws a spanner into Tavish's whole life. His whole life is about to change but why is it that he can only focus on the American in his life? Something that is incredibly wrong due to his position as her boss.
I was really nervous about some of the topics that this book would be facing. Mainly the age gap and Portia's reliability on alcohol – not an alcoholic, just the fact she used it to run from situations. I am so happy to tell you that I think that Alyssa Cole handled these two things extremely well. My nerves were put to bed early and I was falling in love with the banter between Portia and Tav – the pair an absolutely adorable pair. Not only that but there are strong familial connections and friendships throughout this book that just make me so happy to have been able to read.
I think my other fear in A Duke By Default was that I would hate Portia. I wasn't her biggest fan when I read A Princess In Theory and I was wondering how that transition would go when reading the sequel. I have to say though, Alyssa Cole may be a goddess at character development because I quickly found myself siding with Portia and wanting to know everything about her.
In books, I am someone who loves friendships and just strong connections between the characters that aren't the love interest. I always get a bit nervous about romances because that is a common theme. I am so happy to say that, Portia has her own support network, her twin sister and two characters we meet in the first book of the series. These girls support Portia ever step of the way and are the first ones to hype her up. Hell, Portia's twin sister is the reason she even has the apprenticeship in Scotland. Tav has his brother and sister in law, as well as his mum and stepfather. It's definitely different to the support that Portia has but honestly just as heart-warming. Plus, seeing these two characters have two different groups of support was amazing. I feel that a lot of the time in books only one of the love interests has a group that supports them – at least on the page, which is incredibly frustrating.
I said before that I was incredibly worried about the age gap and professional relationship between Portia and Tav. I typically stay away from boss and employee relationships purely because I feel they tend to cross the line. I am so happy to say that Alyssa Cole found the perfect balance of sexual tension and professional. The characters have so much chemistry but the line between them is very clearly drawn. Tav also thinks repeatedly about the situation between them and doesn't want to do anything that Portia would see as inappropriate.
There's just so many elements to Duke By Default I'm struggling on what to talk about. I think the most interesting inclusion throughout the book was the ADHD representation. It is never confirmed but there are pages dedicated to Portia's thoughts and feelings as she educates herself on ADHD. It was interesting to learn because I don't actually know a lot about ADHD if anything at all. I still don't know a lot, but it was definitely interesting for Alyssa Cole to include it in this book. I recommend heading over to an interview that Alyssa Cole did that included a question on the ADHD representation (click here). A reviewer with ADHD also reviewed this book, check out Lacy Literacy's review here.
Overall, this was such a delightfully modern romance, with dashes of royalty and sword making. I had so many fears going into this book but they were all dashed quite quickly in this delicious tale that Alyssa Cole weaves. I have barely scraped the surface of this book with this review. I could talk about this book for hours, honestly. I highly recommend this series to anyone, even if you aren't hyped about the romance genre.
Do you like modern royalty romance stories? Will you be picking up this story? Tell me in the comments!
Happy reading everyone!
| Instagram | Twitter | Goodreads |
If you use my Book Depository link I will receive a 5% commission from your order at no expense to you. I would sincerely be grateful if you chose to use it.
The same goes for my Booktopia link, which is a great service for Aus and NZ residents.
*links used in this review are affiliate links*