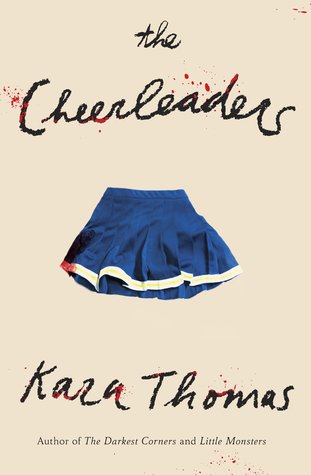 | Book Depository | Booktopia | Amazon |
Rating: ★★★★☆
Release Date: July 31st, 2018
Dates Read: August 5th, 2018 – August 6th, 2018
Trigger Warnings: suicide mentions, death, murder, statutory rape, predatory man, underage drinking, drug use, mentions of domestic violence, mentions of violence, an abortion takes place on page, depression, grief
Pages: 384
Publisher: Delacorte Press
Genre: contemporary, thriller, mystery, young adult 
Goodreads blurb:
There are no more cheerleaders in the town of Sunnybrook.

First there was the car accident—two girls gone after hitting a tree on a rainy night. Not long after, the murders happened. Those two girls were killed by the man next door. The police shot him, so no one will ever know why he did it. Monica's sister was the last cheerleader to die. After her suicide, Sunnybrook High disbanded the cheer squad. No one wanted to be reminded of the girls they lost.

That was five years ago. Now the faculty and students at Sunnybrook High want to remember the lost cheerleaders. But for Monica, it's not that easy. She just wants to forget. Only, Monica's world is starting to unravel. There are the letters in her stepdad's desk, an unearthed, years-old cell phone, a strange new friend at school. . . . Whatever happened five years ago isn't over. Some people in town know more than they're saying. And somehow Monica is at the center of it all.

There are no more cheerleaders in Sunnybrook, but that doesn't mean anyone else is safe.
R E V I E W
The Cheerleaders by Kara Thomas wasn't what I expected. I'm not sure what I went in expecting but it definitely wasn't the events that unfolded throughout the book. It was a story that left me feeling sick to my stomach, and honestly, I did guess the antagonist as soon as they were introduced (someone gets me a detectives badge). This story is Kara Thomas' second YA mystery and I am glad to say that I believe this story was well done. It did contain a theme I am not a fan of which is statutory rape and in no way am I saying that is something I condone by having enjoyed this book.
The Cheerleaders follows Monica, a teenager who has experienced a lot of death in her young life. A few years ago five friends died within the period of a month, including Monica's sister. Monica can't let it go, though. Two girls death were ruled an accident, one a suicide and two were murdered. Monica believes there's more to each story. That, someone, killed the three other girls too and things aren't as they seem. That maybe her sister, whose death was ruled as a suicide, was actually murdered? That maybe the police got the wrong person who murdered the two girls and that they're the one who hurt all five girls? Along the way of the discovery, there is a large focus on friendship, particularly female friendships, and learning who you are. The fact that you can change and that teenagers don't make the smartest decisions is highlighted through The Cheerleaders. Monica definitely isn't the smartest or most likeable main character I have read, which honestly just shows that the author got into a teenagers mind well. This story takes twists I didn't expect and has flashes back to the past with Monica's older sisters perspective, adding layers to this story that have you unable to put the book down.
I'm not typically a fan of YA mysteries. I usually find them a bit dull and lacking in shock factor. However, The Cheerleaders and Kara Thomas' writing took me on a journey I was not expecting. Kara Thomas writes a young adult thriller that leaves you gripping the edge of your seat in fear. The absolutely thrilling tale makes you truly want to scream at the characters.
I think the best part about The Cheerleaders was that there was actually no slut shaming. With young adult books, it is so easy for the author to include slut-shaming. To have the characters labelled 'whores', and have the main character slam any other girl possible. Monica, the main character, thankfully isn't that way inclined. From what I can remember she grows throughout the story and starts to branch out from her group of friends as she looks into her sister's death.
I guess that's another thing I loved about The Cheerleaders, the supportive female friendship between Monica and Ginny. Monica has always known she isn't as nice as her older sister was. Hell, Monica is aware that she is a bit of a bitch. Monica's older sister was always kind to Ginny though, and Monica realises that Ginny may know something that she doesn't and forms the bond between the pair. It starts under strange circumstances, but the girls really grow to rely on each other as they try to solve the mystery of the murders. It was just so supportive and honestly great to see something like that develop on the page. Especially since The Cheerleaders, didn't actually include any romance at all, something I also loved. I have read very few books that don't have romance and I think that Kara Thomas does it extremely well.
I did have a few problems though, oops. This story was a little lacklustre and the twist was incredibly obvious to me. I mean that in the fact that I literally guessed who did it as soon as the character was introduced, which left me like 'eh' when it was revealed. There is more to it obviously, mainly the reasons, but it was still a little unfortunate that it has been so obvious to me. I think another element the author could have added was a family dynamic. I understand what the author was going for, that the trauma of Monica's sister's death had torn the family apart. However, it felt as if Monica's mother had completely forgotten about her since she had married another man and had another baby. I understand that is also realistic, I have friends who have experienced that, but in the context of this book, I feel it could have been important to the storyline.
Overall, The Cheerleaders is a thrilling story that showcases the author's talent at a chilling tale. I will be reading her other book ASAP (edit: I have now read Little Monsters and a review will be coming for that). I highly recommend this story if you're looking for a good young adult mystery that doesn't use suicide as a twist.
Do you like YA mysteries? Will you read The Cheerleaders? Tell me in the comments!
Happy reading everyone!
| Instagram | Twitter | Goodreads |
If you use my Book Depository link I will receive a 5% commission from your order at no expense to you. I would sincerely be grateful if you chose to use it.
The same goes for my Booktopia link, which is a great service for Aus and NZ residents.
*links used in this review are affiliate links*