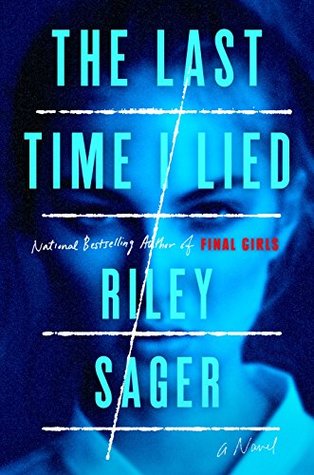 | Book Depository | Booktopia | Amazon |
Rating: ★☆☆☆☆
Release Date: July 3rd, 2018
Trigger Warnings: suicide mentions, mentions of death, mentions of drowning, ableist slurs, mentions of cancer
Pages: 384
Publisher: Dutton
Genre: adult, mystery, contemporary, thriller
Goodreads blurb:
Two Truths and a Lie. The girls played it all the time in their tiny cabin at Camp Nightingale. Vivian, Natalie, Allison, and first-time camper Emma Davis, the youngest of the group. The games ended when Emma sleepily watched the others sneak out of the cabin in the dead of night. The last she–or anyone–saw of them was Vivian closing the cabin door behind her, hushing Emma with a finger pressed to her lips.

Now a rising star in the New York art scene, Emma turns her past into paintings–massive canvases filled with dark leaves and gnarled branches that cover ghostly shapes in white dresses. The paintings catch the attention of Francesca Harris-White, the socialite and wealthy owner of Camp Nightingale. When Francesca implores her to return to the newly reopened camp as a painting instructor, Emma sees an opportunity to try to find out what really happened to her friends.

Yet it's immediately clear that all is not right at Camp Nightingale. Already haunted by memories from fifteen years ago, Emma discovers a security camera pointed directly at her cabin, mounting mistrust from Francesca and, most disturbing of all, cryptic clues Vivian left behind about the camp's twisted origins. As she digs deeper, Emma finds herself sorting through lies from the past while facing threats from both man and nature in the present.

And the closer she gets to the truth about Camp Nightingale, the more she realizes it may come at a deadly price.
R E V I E W  
I feel like I should give up on Riley Sager books. They are simply not for me. The perfect example of this is the fact I hated Final Girls (review). The Last Time I Lied definitely didn't help redeem the author for me. To put it simply and to save you reading an entire review – this book was boring. It was such a yawn fest that I have to say Final Girls was more enjoyable than this one. This book had nothing. There was no spark. There was no 'ah-ha' moment. There just was nothing. The story was flat and the author again tried to weave mental illnesses into the plot in a way that made me feel uneasy. I wish I was kidding when I said that nothing happens in this book. There are certain sections where it feels something is happening but, overall, it is piss weak and has absolutely nothing to hold it up.
The Last Time I Lied follows Emma. Emma is an artist who attended an all-girls camp fifteen years ago. It was during this same trip that three of the girls from Emma's cabin went missing. Their bodies were never found and the camp was shut down. Emma hasn't dealt with the guilt and horror of this particular trip and is still struggling with the effects. She paints the three girls in all of her artworks but covers them up. It is a strange concept that I still don't really even understand after this finishing the book. The point of the story is that this particular camp is being reopened during the summer. Emma, despite all her anxiety and PTSD related feelings, decides to go and find out who murdered her three friends from the summer. Now, remember, nothing was ever found of these three girls so Emma has simply jumped to the conclusion. The Last Time I Lied flashes between Emma's first trip to the camp and the present. As much as the past didn't think the past added anything to the plot it was honestly the most enjoyable because I knew something would happen. However, the book is flat. There is no climax, the complication is as weak as me (very) and the ending leaves you feeling nothing.
My biggest issue with this book is that Emma is almost 30. Emma reads as if she is 13. There is not mature feelings and behaviours that come out of that woman that makes me feel as if she has lived for almost three decades. Not only that but I really just don't believe this author can write female characters (despite doing so in two books). I believe the author is a man? I really think they should try to write male characters because they really do not understand a female at all. At least from their two attempts at writing thriller books. I also didn't feel as if Emma was really affected by the past trauma. I know she has a diagnosed mental illness (which is used for shock factor, so ick) but it really doesn't feel as if she has a depth to her. Her whole character is lacking in a whole and maybe it's because of her lack of maturity. Ultimately, the three young girls that Emma is forced to bunk with at the camp read a lot more mature than she does. Not only all this, but Emma loves to accuse everyone of having something to do with the girl's disappearance. She doesn't even need a good reason as to why she believes you murdered them, she will simply accuse you. It came across so badly done as well, I just have no words. This book has basically left me speechless because of how bad it is.
Additionally, there is a romance sprinkled throughout this book that is awful. Not only is the love interest someone who the main character had accused of murder there is no chemistry. Also, they say they would have dated her when she was 13 and they were 19 (the first time she was at camp) which is just ick. I know six years isn't too much when the people are both over 18 but to even imply this? It was strange and made my skin crawl.
I read most of this book while rolling my eyes. This book is literally all filler. I don't think that I felt captivated at one point. I just wanted to get it down so I could write a review and tell people to not waste their time picking up this book. It really is not worth the hours I wasted reading it and I wish I could get the time I wasted back. It feels as if the author spent too much time setting up possible reasons the girl went missing rather than focusing on what they wanted the conclusion to be. There was a ridiculous amount of page time spent on ghosts and theories in regards to an old mental asylum.
The only redeeming thing about this book was the last chapter. However, it should have been given more time and much more focus. Instead, it was thrown in like an afterthought as if the author went 'shit, my editor said I have a plot hole so this seems decent'. It read well but due to the fact it is the only interesting point of this whole book I'm keeping this trash ass mystery at one star.
Overall, The Last Time I Lied is basically the definition of mediocre. The book cover really should be put next to the definition. There was nothing about this book that kept me captivated. I didn't even care about the mystery element due to the poor execution and the lack of overall character development in everyone. The story really is all over the place.
Happy reading everyone!
| Instagram | Twitter | Goodreads |
If you use my Book Depository link I will receive a 5% commission from your order at no expense to you. I would sincerely be grateful if you chose to use it.
The same goes for my Booktopia link, which is a great service for Aus and NZ residents.
*links used in this review are affiliate links*