Thank you so much to NetGalley and the publisher for allowing me access to an eARC. Hachette also sent me a physical completed copy of Muse of Nightmares. All thoughts and opinions are my own.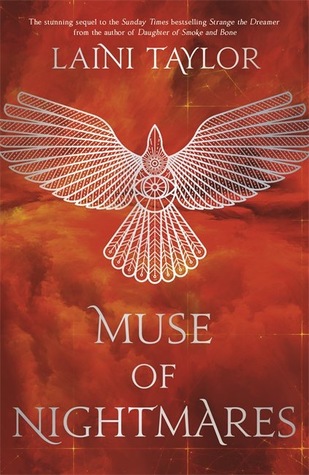 | Book Depository | Booktopia | Amazon |
Rating: ★★★★★
Release Date: October 2nd, 2018
Dates Read: August 14th, 2018 – August 15th, 2018
Trigger Warnings: mentions of rape, mentions of child abuse, graphic depictions of murder, grief
Pages: 528
Publisher: Hachette Australia
Genre: young adult, fantasy, romance, magic
Goodreads blurb:
In the wake of tragedy, neither Lazlo nor Sarai are who they were before. One a god, the other a ghost, they struggle to grasp the new boundaries of their selves as dark-minded Minya holds them hostage, intent on vengeance against Weep.

Lazlo faces an unthinkable choice—save the woman he loves, or everyone else?—while Sarai feels more helpless than ever. But is she? Sometimes, only the direst need can teach us our own depths, and Sarai, the muse of nightmares, has not yet discovered what she's capable of.

As humans and godspawn reel in the aftermath of the citadel's near fall, a new foe shatters their fragile hopes, and the mysteries of the Mesarthim are resurrected: Where did the gods come from, and why? What was done with thousands of children born in the citadel nursery? And most important of all, as forgotten doors are opened and new worlds revealed: Must heroes always slay monsters, or is it possible to save them instead?

Love and hate, revenge and redemption, destruction and salvation all clash in this gorgeous sequel to the New York Timesbestseller, Strange the Dreamer.
 R E V I E W 
Strange the Dreamer | Review
Very rarely am I left speechless. I am someone who always has something to say. Most people find it annoying but I just have a lot of opinions. Muse of Nightmares has left me speechless. Laini Taylor has outdone herself. I read Strange the Dreamer last year and was blown away by the intricate world. Muse of Nightmares has done the same thing. I truly struggle with character-driven stories on a good day, but the lyrical writing style in this particular series just makes me so damn happy. I have no words, truly.
Muse of Nightmares starts and finishes with a bang. It picks up directly where Strange the Dreamer finished and we're thrust straight back into a conflict. Minya is the enemy and Lazlo, Sarai, Sparrow, Ruby and Feral just want the best for everyone. Preferably without murder. The five godspawn are truly doing their best, but when a new enemy arises it is difficult to make the correct choices to succeed.
At the same time apart of this story is featured in the past, before the godspawn we love had even been thought of. Nova and Koya were sisters who had been dealt a hard hand. Their mother had been taken due to her great gift and the pair were left with a vicious father and stepmother. When the time comes for the girls to be tested for gifts themselves only one succeeds in being chosen, the other's gift so powerful that it scares the gods into leaving her. However, these two sisters have a bond so powerful. They will not quit and they will be together. The sister left behind journeys far and wide in order to get her sister back. I really enjoyed the addition of this story. I was left anxiously waiting for the part of the book to change in order to get another glimpse at the past.
I was a bit cautious that the original godspawn would be the only storyline of this particular story, but I was blown away by what was added. This story features so much depth. Honestly, it is mind-boggling. The amount of trauma that is given representation throughout this novel and the way that the story ultimately comes together is what makes Laini Taylor's writing the spectacular piece of art it is. I must say, I had incredibly high expectations for Muse of Nightmares. Those expectations were thankfully surpassed.
I want to start with the problem I had with this book, though. I know, I'm someone who always has something to whine about. Muse of Nightmares is solely character based. There is plot sprinkled through but honestly, it's lacking. However, with a book that is focused solely on the characters relationships, I feel there should be more character development. We get some development with one (maybe three but those other two are more side characters) character but I feel that was a given. Every other character remains kind of stagnant though. No romances move forward, no change in personality, they just are. It was pretty frustrating and made the story a little boring in some places.
I also didn't enjoy the fact Lazlo just knew how to use his powers. I really wish there had been more of a transitional period here not just a 'lmao hey guys I have a great power and I have it completely harnessed' just saying. That is just me being picky though, I guess.
The history that is revealed throughout this novel is amazing. When I finished Strange the Dreamer I had more questions than answers. I didn't understand what had happened really and I truly was searching for what the fuck had actually happened. Thankfully, with Muse of Nightmares, all my questions were answered. I mean, hell, I think I cried like six times throughout this book for no other reason than I am soft and fragile. It happens.
I'm trying to talk about these things in the best way that I can without spoiling anyone since I do think that it is best to go into this novel just not expecting anything if you've read the first book.
Sparrow really had a bigger role in this book too. I loved that. Due to her power being mostly plant based it is difficult for her to do a lot when it comes to fights and arguments. I mean, hell, in the last book I felt like her biggest role was to pine over Feral and get mad at him and Ruby. However, the way that she interwove into this book was spectacular. Again, not going to say a lot because we aren't out here to spoil y'all.
To be honest, though, my favourite thing about the Strange the Dreamer series is the world building. Laini Taylor creates a unique and spectacular world that I want to dive straight in to. The brutality and real human emotions that come across through the world building is something that I absolutely adore. I truly am still blown away in sheer amazement at the world. If she could just set every book in this particular world setting I would be happy for the rest of my days.
Overall, Muse of Nightmares was everything I wanted and more. For me, it is definitely not on the same level as Strange the Dreamer, but it was a nice conclusion. I am anxiously waiting to see if maybe we will get a spin-off series, it really felt like the epilogue hinted at that and I need
Happy reading everyone!
| Instagram | Twitter | Goodreads |
If you use my Book Depository link I will receive a 5% commission from your order at no expense to you. I would sincerely be grateful if you chose to use it.
The same goes for my Booktopia link, which is a great service for Aus and NZ residents.
*links used in this review are affiliate links*