Thank you so much to Harlequin Teen for sending me a physical copy of Shadow of the Fox. Another thank you goes to NetGalley for providing me with a digital copy as well. All thoughts are my own and receiving copies of the book did not impact this.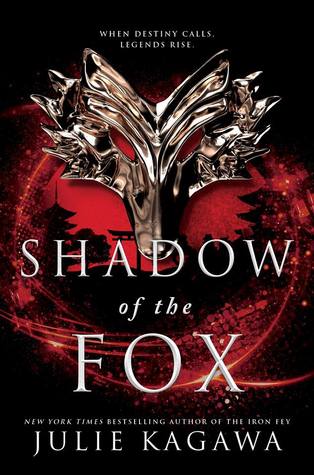 | Book Depository | Booktopia | Amazon |
Rating: ★★★★☆
Release Date: October 2nd, 2018
Dates Read: September 21st, 2018 to September 23rd, 2018
Trigger Warnings: graphic violence, graphic murder, graphic death, loss of a loved one, physical abuse, the threat of rape, talk of suicide, and war themes.
Pages: 399
Publisher: Harlequin Teen
Genre: young adult, fantasy 
Goodreads blurb:
One thousand years ago, the great Kami Dragon was summoned to grant a single terrible wish—and the land of Iwagoto was plunged into an age of darkness and chaos.

Now, for whoever holds the Scroll of a Thousand Prayers, a new wish will be granted. A new age is about to dawn.

Raised by monks in the isolated Silent Winds temple, Yumeko has trained all her life to hide her yokai nature. Half kitsune, half human, her skill with illusion is matched only by her penchant for mischief. Until the day her home is burned to the ground, her adoptive family is brutally slain and she is forced to flee for her life with the temple's greatest treasure—one part of the ancient scroll.

There are many who would claim the dragon's wish for their own. Kage Tatsumi, a mysterious samurai of the Shadow Clan, is one such hunter, under orders to retrieve the scroll…at any cost. Fate brings Kage and Yumeko together. With a promise to lead him to the scroll, an uneasy alliance is formed, offering Yumeko her best hope for survival. But he seeks what she has hidden away, and her deception could ultimately tear them both apart.

With an army of demons at her heels and the unlikeliest of allies at her side, Yumeko's secrets are more than a matter of life or death. They are the key to the fate of the world itself.
 R E V I E W
Shadow of the Fox by Julie Kagawa was a difficult book to get through. Fantasy novels for me are a little heavier for me to power through. I struggle to get through them but I knew I had to push through this one and I am so glad I did. Julie Kagawa crafted an incredible Japanese fantasy that is a beautifully intricate world. The characters are seamless and the way they flow with the world around them is just positively beautiful.
I think the best part about Shadow of the Fox is that it is an own voices Japanese fantasy. I could really feel the author's knowledge of the stories throughout the story. The stories of these people who would otherwise never come together exploring new towns and getting to know each other, and have a shit tonne of turmoil.
The story ultimates from three perspectives: Yumeko, a half-kitsune who has lived in a temple her entire life but is now forced to protect a super precious scroll and travel to new lands. Kage, a samurai with a sword that is possessed by a demon that eats at him each time he uses it. Suki, the person who possibly the most tragic backstory in all of fiction – can't say too much here due to spoilers. Yumeko and Kage are unlikely acquaintances who pick up a few other friends along the way. They experience countless other demons and danger that is enough to send goosebumps down your spine in fear. I really don't want to say too much. I feel like this is one of those stories where you need to be unaware in order to enjoy it as much as possible. Hence why I want to keep this review as short as possible.
At times I found the pacing of this a little haphazard, some parts dragged and others flew by but I typically find that in books where a journey takes place. I feel that this was would be absolutely enchanting on audiobook. It also would have been incredibly interesting to hear the pronunciation of the Japanese words. I studied Japanese for a few years in high school so some words were familiar, but I still think hearing the words would be amazing.
Overall, I am really excited to see where this series goes. It is clear that Julie Kagawa has created an absolutely intricate world with awe-inspiring characters. It is something I feel blessed to have read earlier.
Happy reading everyone!
| Instagram | Twitter | Goodreads |
I am an affiliate for both Book Depository (INTL) & Booktopia (AUS & NZ). Using my links gives me a 5% commission from your order at no expense to you. I would love if you chose to use my affiliate links to shop at these stores! Click on the links provided here to shop. My Book Depository ID – what you add to the end of a URL – is AMBSBLOGREADS.  
*links used in this review are affiliate links*