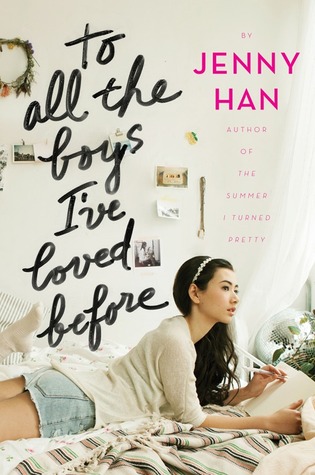 | Book Depository | Booktopia | Amazon |
Rating: ★★★★☆
Release Date: March 20th, 2015
Dates Read: August 19th, 2018 to August 19th, 2018
Pages: 355
Publisher: Penerbit Spring
Genre: diverse, contemporary, young adult, romance
Goodreads blurb:
What if all the crushes you ever had found out how you felt about them… all at once? 

Sixteen-year-old Lara Jean Song keeps her love letters in a hatbox her mother gave her. They aren't love letters that anyone else wrote for her; these are ones she's written. One for every boy she's ever loved—five in all. When she writes, she pours out her heart and soul and says all the things she would never say in real life, because her letters are for her eyes only. Until the day her secret letters are mailed, and suddenly, Lara Jean's love life goes from imaginary to out of control.
R E V I E W
I never wanted to read this book. Wow, what a great way to start a review, right? I just never had the urge to pick it up due to the differing reviews on Goodreads. Then the movie came out and I think everyone and their dog are talking about it. Maybe not still because this review is going live in October, but in August I can't go on Twitter without seeing screenshots of the movie. I watched the movie the day after its release and I was obsessed. I said I wouldn't read the book still but I could not stop thinking about this book. It was as if all my waking thoughts were consumed by this series. I fell in love with Peter Kavinsky (and the guy who plays him) and the family dynamic in the movie made my heart melt and desperately need more. Basically, I just needed more. So, that was why I picked up the book and managed to finish all three books in two days. I am pretty proud of that, honestly.
To All The Boys I've Loved Before is my first Jenny Han book. I definitely didn't go in expecting a lot, maybe because I had already seen the movie and was expecting the book to suck (I'm sorry I'm being honest). However, I fell in love with this series and its characters. The book adds another layer of depth to the film I had missed and even fills in some of the backstories I was slightly curious about. There was just so much happening in the book and it was just such a light and fluffy read. This book is the best 'feel good' book I may have read to date. It was just such fluff.
Lara Jean Covey is a good girl, a girl who enjoys spending time with her family and loves to bake. I related to Lara Jean's personality so much – fun fact, I've had several people message me since watching the movie to tell me I am Lara Jean Covey, so there's that. The biggest thing about Lara Jean is that she is in love with love. That is truly the best way to put it. At sixteen she has been in love five times, all those times absolutely all-consuming. To get these feelings out she writes each boy a letter, one not meant for their eyes, and hides it in a hatbox that her mother had given her. The most recent is her sister's boyfriend. Yikes, I know. However, the pair has broken up due to Lara Jean's older sister, Margot, going to Scotland for college. Lara Jean is happy to live out her life with being invisible or simply friends with these boys. That is until the letters are sent. The doomed plot point that sends this story going. The story falls into a fake dating trope (which I love) and has so many adorable quirks that I could talk about the plot for hours (someone stop me). I've been writing this review for 16 minutes and I already have 500 words of feelings, so gross. I won't say too much more about the plot, but it is the book to pick up if you're feeling down. The writing is simple, the characters feel their ages and there is just a wonderful chemistry between the two main characters. I just want to gush about it so damn much.
I obviously had some problems with this book. I wouldn't be me if I didn't. I'm going to get those out of way so I can gush more because I need to gush more (especially since I have to write reviews for the next two books after this).
There were also some important conversations, or at least thoughts from Lara Jean, about being biracial (half Korean, half white). It's always nice to read a book where a POC is at the forefront.
My first problem begins with Lara Jean's and Chris' friendship. In the movie, I feel the pair worked together. However, in the book, I feel that Lara Jean was incredibly judgemental of the life that Chris' led. Obviously, the pair were chalk and cheese and couldn't be more different if they tried but I feel as if there were some snide comments throughout the story that just made me uncomfortable.
I guess that leads to the other problem I had with this story, the slut-shaming undertones. All three books have them, so I will discuss in all my reviews, but it felt as if Lara Jean just couldn't stop it. I feel that Gen, the antagonist of the series, is painted out to be a villain in some ways just because she is sexually active. It was just frustrating.
The jealousy was my last issue with Jenny Han's To All The Boys I've Loved Before. I am not a jealous person. I am far from it. Go do what you like and we'll talk later, you know? However, both Peter and Lara Jean are jealous people. At some points in the story, I wanted to grab them both and scream you're sixteen, calm down. Jealousy is a big point in all these books so again, we'll come back to it in later reviews. It was just so damn infuriating to read about the petty thoughts. Just talk to each other! It would have solved 98% of the problems!
I did love things about this book, I mean, why the hell would I give this book four stars if there wasn't?
I loved the humour in this book. It is a dry sense of humour and a lot of the situations I was laughing at the characters, but the humour is definitely there.
The family relationships in the book were amazing. The relationship between the Song/Covey girls was beautiful. In the wake of their mother's death, the three girls banned together and helped each other, and took care of their dad. It was really beautiful to see all of them so close. The way the dad interacted with them was also great. Seeing a supportive parent, who didn't disappear in the story, was a really nice touch by Jenny Han.
I loved Peter. I don't think this is uncommon. I bloody love Peter Kavinksy, like every other girl in that high school Lara Jean goes to. God, he is the damn sweetest thing. The way he talks to Lara Jean, gosh I'm literally swooning. I can't stop swooning, someone helps me. Jenny Han wrote an amazing love interest in To All The Boys I've Loved Before and I am here for it.
Overall, To All The Boys I've Loved Before is a super fluffy, sweet, and all around adorable romance. The story is cliché, yes. Sure it may be boring. But, if you go in with the mindset that this is an adorable story that will make you giggly I think you'll love it. Hell, I cried, I laughed and I could not wipe the smile off my face while reading Jenny Han's book. I can't help but recommend it. However, I recommend you be in the mood for the story and not go in expecting it to be a complex contemporary.
 Happy reading everyone!
| Instagram | Twitter | Goodreads |
I am an affiliate for both Book Depository (INTL) & Booktopia (AUS & NZ). Using my links gives me a 5% commission from your order at no expense to you. I would love if you chose to use my affiliate links to shop at these stores! Click on the links provided here to shop. My Book Depository ID – what you add to the end of a URL – is AMBSBLOGREADS.  
*links used in this review are affiliate links*