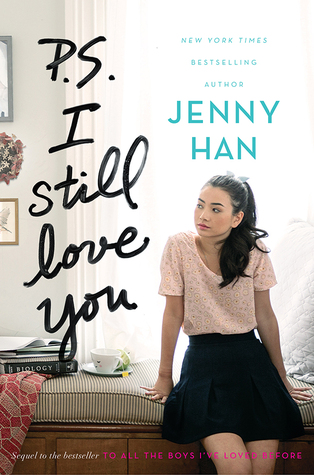 | Book Depository | Booktopia | Amazon |
Rating: ★★★☆☆
Release Date: May 26th, 2015
Dates Read: 19th August, 2018 to 20th August, 2018
Pages: 337
Publisher: Simon & Schuster Books for Young Readers
Genre: young adult, contemporary, romance
Goodreads blurb:
Lara Jean didn't expect to really fall for Peter.
She and Peter were just pretending. Except suddenly they weren't. Now Lara Jean is more confused than ever.
When another boy from her past returns to her life, Lara Jean's feelings for him return too. Can a girl be in love with two boys at once?

In this charming and heartfelt sequel to the New York Times bestseller To All the Boys I've Loved Before, we see first love through the eyes of the unforgettable Lara Jean. Love is never easy, but maybe that's part of what makes it so amazing.
 R E V I E W
I don't typically like sequels in contemporary series. I find the problems annoying and the books typically filler. I truly struggle with them as a whole and much prefer when the story chooses to follow a different character in a sequel. I am sad to say, P.S I Still Love You falls into the category of contemporary sequels I hate.
Jenny Han follows up To All The Boys I've Loved Before with a pretty lacklustre sequel. I talked about how don't go into the first book expecting too much. I say definitely have no expectations when reading the sequel. If you didn't enjoy the first book just quit here honestly. Almost nothing happens in this book. It is truly all filler and miscommunication. If you've followed me for a small amount of time you may be unaware, but miscommunication is my least favourite trope to ever exist. It makes me want to slam my head against the wall because just talk. Why do characters find it so hard to talk?
P.S I Still Love You picks up exactly where To All The Boys I've Loved Before finishes. After that cliffhanger ending I was pretty glad for this. I had to know what would happen after Lara Jean wrote that letter. It was eating at me. I am so glad I didn't have to wait a year for this release. Anyway, P.S I Still Love You focuses greatly on Lara Jean and Peter navigating their new relationship. Coming from fake dating, to actually liking each other to breaking up to finally getting back together for real is a lot to take on board. Not only that but Peter seems to be spending a suspicious amount of time around his ex-girlfriend Gen, which is driving Lara Jean up the wall because he won't tell her why. The story was definitely a little all over the place, with a rival love interest for Peter turning up, John Ambrose McClaren. A game of intense tag from their childhood is brought back to life, with the game being incredibly vicious and cutthroat. However, some important conversations are had throughout the book, which were nice to read after some of the shit storm that happened in book one.
There wasn't a large reason why I didn't enjoy P.S I Still Love You it was mainly because almost nothing happened in this book. The drama between Peter and Lara Jean also lowkey felt like Gabriella and Troy from High School Musical 2.You know what I mean. That movie may have the best songs but the drama makes you want to scream.
Jealousy was the biggest enemy in this book. It seemed like Lara Jean rejected the idea of handling a situation like an adult. I have to remember she is only 16/17 throughout this book so it is fair to be somewhat judgemental and immature. However, it was absolutely ridiculous. After the last book, you would think that she would know it's time to put her big girl pants on and grow up.
Again there was some major slut shaming throughout this book. Much worse than book one. This stemmed from some revenge 'porn' posted about Lara Jean and Peter – I put porn in quotations because the pair is having a hot and heavy make-out session but didn't have sex. This did lead to an important conversation though, about the fact that boys are high fived and congratulated for things like this and girls are shamed and ridiculed. It was sad to read about. However, I feel like this storyline was handled pretty poorly. At one stage it just fizzles out of the plot and I feel that it could have been the real problem happening throughout this story. It seemed as though Jenny Han wanted to completely write it out of P.S I Still Love You without actually addressing it fully.
To end my complaints, this story just really felt like it was all over the place. It didn't feel like it had one set drama, which resulted in the book feeling a bit messy and like it hadn't undergone edits properly. Which may be rough of me to say, but it was quite annoying.
John Ambrose McClaren was an absolute sweetheart. I still don't know if I ship him and Lara Jean together but God, he was an absolute darling. He was so polite and just sweet and just the nicest guy to ever exist. You just know those guys, right? Ugh, I really struggled with Peter in this book and John just swooped in and stole my heart. I don't want to say so much, but I love John Ambrose McClaren.
Throughout this book Lara Jean begins working at a nursing home, planning events for the residents and in general helping out. One resident, Stormy, was so bloody funny. She was racist, let's be real, and had some backwards thinking but, oh gosh, I couldn't stop laughing every time she was on the page. It was a hoot.
I again loved the familial elements of this book. The girls got a dog for Christmas in the last book and I loved getting to see the dog in the book. Y'all know I love a dog in a book and that make sit an instant favourite for me. I adore puppies. The sisters in this book played a large part again and it is just so refreshing to see a close relationship in a book. I don't even know how to express it. The lack of familial relationships in books is accurate in many cases, even mine, but I just love seeing the support.
Overall, P.S I Still Love You was definitely not my favourite in this series. It wasn't that great of a book. I say lower your expectations and try not to expect anything while reading it. It is truly a ride. I read it fast, which I think constituted for me enjoying it a lot more. Also probably because I was picturing Noah as Peter the whole time, sue me I'm still obsessed with the movie. My review for the final book in this series will be up in two days!
Happy reading everyone!
| Instagram | Twitter | Goodreads |
I am an affiliate for both Book Depository (INTL) & Booktopia (AUS & NZ). Using my links gives me a 5% commission from your order at no expense to you. I would love if you chose to use my affiliate links to shop at these stores! Click on the links provided here to shop. My Book Depository ID – what you add to the end of a URL – is AMBSBLOGREADS.  
*links used in this review are affiliate links*