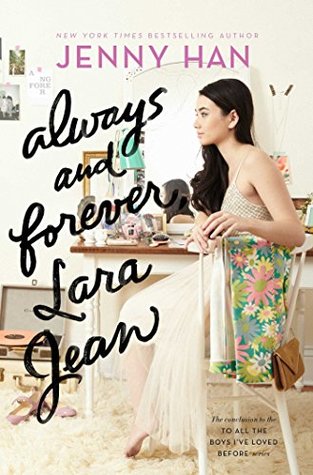 | Book Depository | Booktopia | Amazon | 
Rating: ★★★★☆
Release Date: May 2nd, 2017
Dates Read: August 20th, 2018 to August 20th, 2018
Pages: 336
Publisher: Simon Schuster Books for Young Readers
Genre: young adult, contemporary, romance 
Goodreads blurb:
Lara Jean is having the best senior year. And there's still so much to look forward to: a class trip to New York City, prom with her boyfriend Peter, Beach Week after graduation, and her dad's wedding to Ms. Rothschild. Then she'll be off to college with Peter, at a school close enough for her to come home and bake chocolate chip cookies on the weekends.

Life couldn't be more perfect!

At least, that's what Lara Jean thinks…until she gets some unexpected news.

Now the girl who dreads change must rethink all her plans—but when your heart and your head are saying two different things, which one should you listen to?
R E V I E W
Forever and Always, Lara Jean by Jenny Han is the conclusion to To All The Boys I've Before. This book finally branched away from full-on relationship drama and added a plotline I feel a lot of high school couples in college go through – long distance. This was yet another fluffy conclusion and it was really nice to see that jealousy didn't play as large of a part in this story. It was still present because Lara Jean and Peter cannot be without it, but it also didn't focus on that as much. This story felt as if the journey of graduating and what's to come next is at the forefront. I graduated from high school three years and by the time you're reading this, I will have finished my final semester of university. However, I think the graduation experiences in Australia and America are vastly different so I can't even begin to compare. I'm going to try and keep this review somewhat short though because this is the last book in the series and I don't want to accidentally spoil anyone.
Lara Jean is finally in her senior year of high school and everything seems to be going perfectly. Lara Jean and Peter have been together for over a year now and the pair seems to be doing really well. Stresses begin to arise throughout the book and Lara Jean finds herself both stress baking and stress planning. The combinations of the both are to get her mind off the unexpected news she's received. She doesn't know how to handle it and with her life's plans now up in the air you can feel her news running through the story.
This book was a whirlwind. It definitely wasn't as good as the first one for me but it felt like it handled the situations incredibly well. The characters felt like they were teenagers about to go through the transition to adulthood. The cusp of adulthood is a scary one and those anxieties translated well throughout the story. The relationship drama between Peter and Lara Jean was toned down and it seemed more focused on college and their future.
I think the only thing I didn't like about Forever and Always, Lara Jean was that there was some unnecessary conflict. At this stage though I just kind of presume that was going to happen in this series. I would have liked more fluffy moments, but what can you do.
There was a large focus on sex throughout the book. Not that anyone actually has sex but Lara Jean has clear anxieties and fears surrounding it, which are 100% valid and incredibly important for these conversations. There's safe sex promotion as well, including mentions of birth control pill and condoms. I am always here for educating people through YA about sex and I think these conversations are really important if the characters are thinking about or going to have sex in a book.
I really enjoyed the baking element to this story. Lara Jean in previous books has mentioned a love of baking and it has been incorporated into each storyline. I feel it really came to the forefront in this book though. Since Lara Jean was stress baking it makes sense. She is on a mission to create the perfect chocolate cookie and honestly, I wish I had that recipe because damn those cookies sounded good.
Overall, I'm going to end my review here because I don't want to babble on and spoil anyone. Forever and Always, Lara Jean by Jenny Han was a realistic look at the emotions one feels as they leave college. This series itself was super sweet and made my heart feel full in a time where I didn't need a stressful read. I highly recommend picking up this series and watching the movie if you haven't already. If you've done both, drop a comment so we can discuss all our feelings!
 Happy reading everyone!
| Instagram | Twitter | Goodreads |
I am an affiliate for both Book Depository (INTL) & Booktopia (AUS & NZ). Using my links gives me a 5% commission from your order at no expense to you. I would love if you chose to use my affiliate links to shop at these stores! Click on the links provided here to shop. My Book Depository ID – what you add to the end of a URL – is AMBSBLOGREADS.  
*links used in this review are affiliate links*