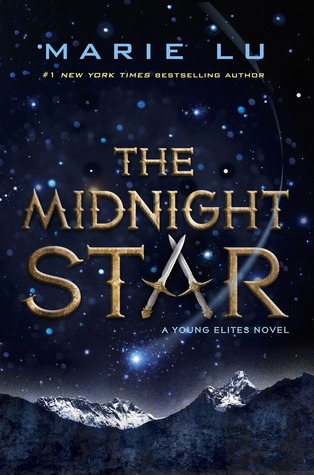 | Book Depository | Booktopia | Amazon |
Rating: ★★★★☆
Release Date: October 11th, 2016
Dates Read: September 2nd, 2018 – September 8th, 2018
Trigger Warnings: animal abuse, death, murder, starvation, torture
Pages: 316
Publisher: G.P. Putnam's Sons Books for Young Readers
Genre: dystopia, romance, young adult, fantasy, magic
Goodreads blurb:
 Adelina Amouteru is done suffering. She's turned her back on those who have betrayed her and achieved the ultimate revenge: victory. Her reign as the White Wolf has been a triumphant one, but with each conquest her cruelty only grows. The darkness within her has begun to spiral out of control, threatening to destroy all she's gained.

When a new danger appears, Adelina's forced to revisit old wounds, putting not only herself at risk, but every Elite. In order to preserve her empire, Adelina and her Roses must join the Daggers on a perilous quest—though this uneasy alliance may prove to be the real danger.
R E V I E W
WARNING: This review will contain spoilers from throughout this series. Please approach carefully and don't scream at me if I spoil you. You have been warned. There are no spoilers about The Midnight Star though.
The Midnight Star by Marie Lu was a finale I didn't expect to enjoy as much as I did. I know I say this in a lot of my reviews but I'm going to try and keep this short due to this being a final book in a trilogy and not wanting to spoil anything for anyone. This series is intense, to say the least. So much happens and that doesn't stop in this book. I already knew a massive spoiler going into this one. I also knew that basically, no one liked it. I have seen so many two star reviews for The Midnight Star and honestly…its not that bad. Maybe I just had super low expectations and my friend Alex had prepared me appropriately but, overall, it just wasn't the worst thing I have read this year.
The Midnight Star is set a year after The Rose Society ends. We aren't really given a large timeline of what Adelina has been doing throughout this year. It seemed like she has really taken on the anti-hero role she has set herself up for throughout the past books. She has conquered a few kingdoms and has built an army for herself based completely on fear. However, Adelina is alone and is as stubborn as ever. She is happy to continue her mission of conquering kingdoms, primarily looking at defeating the Daggers once and for all and taking her sister back. However, the Marked are dying. Their powers and gifts are turning on them and they aren't going to immortal and their deaths are rapidly approaching. There is a solution, but it involves giving up your powers and becoming powerless – Adelina's greatest fear.
This was a slow story. I think that maybe I enjoyed this story as much as I did because of the fact I read it via audiobook. I think if I had been physically reading this one it would have added to my overall disappointment. However, despite the slow travelling story, this was enjoyable. The interactions between characters and seeing the growth that everyone had gone through throughout the books. Some of that growth isn't the best, which just highlights Marie Lu's talent with writing honestly. Seeing all these personalities come together one more time was also interesting. It felt so long since we had everyone in the same room, figuratively, that seeing the dynamic and changes had me slowing down while I walked my dog.
The fight scenes throughout this book were incredible. The pacing felt a bit off in places, but oh my God did they have me trying not to freak out in public and scream. Marie Lu had some great descriptions throughout them and I think having it read to me via audiobook made them truly come alive in my head.
I had two problems with The Midnight Star by Marie Lu.
One was that Adelina got somewhat of an apologist arc. I absolutely despise when characters who are bad people get this. I think sometimes characters who are bad people just are and don't need reasons. They also don't need a big 'oh yes I did one good thing now I am good' moment. No. Adelina should have done the thing (avoiding spoilers is hard) and then forgotten. I really just think it was unnecessary and took away from Adelina's character in some way. I just wanted her to be a ruthless bitch and to die a ruthless bitch.
The other thing I found unnecessary in The Midnight Star was the animal abuse. It is never mentioned completely or even really focused on, but the sea animals are being poisoned and forced to work themselves to death. It honestly seemed senseless and made me slightly uncomfortable. I was not expecting it and I just wanted them to live but Marie Lu never mentions it again.
Overall, I guess it was a disappointing finale. I didn't get everything I wanted but I did still enjoy it. So does that count as completely being disappointed? This story was such a whirlwind of emotions. Having an antihero front and centre of a book is my new favourite thing though and authors need to take the jump and give me more honestly.
Happy reading everyone!
| Instagram | Twitter | Goodreads |
I am an affiliate for both Book Depository (INTL) & Booktopia (AUS & NZ). Using my links gives me a 5% commission from your order at no expense to you. I would love if you chose to use my affiliate links to shop at these stores! Click on the links provided here to shop. My Book Depository ID – what you add to the end of a URL – is AMBSBLOGREADS.  
*links used in this review are affiliate links*