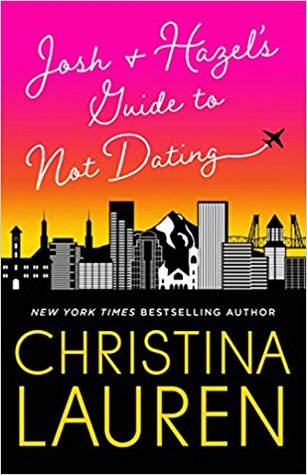 | Book Depository | Booktopia | Amazon |
Rating: ★★★★★
Release Date: September 4th, 2018
Dates Read: September 5th, 2018 – September 6th, 2018
Pages: 309
Publisher: Gallery Books
Genre: adult, romance, contemporary 
Goodreads blurb:
Hazel Camille Bradford knows she's a lot to take—and frankly, most men aren't up to the challenge. If her army of pets and thrill for the absurd don't send them running, her lack of filter means she'll say exactly the wrong thing in a delicate moment. Their loss. She's a good soul in search of honest fun.

Josh Im has known Hazel since college, where her zany playfulness proved completely incompatible with his mellow restraint. From the first night they met—when she gracelessly threw up on his shoes—to when she sent him an unintelligible email while in a post-surgical haze, Josh has always thought of Hazel more as a spectacle than a peer. But now, ten years later, after a cheating girlfriend has turned his life upside down, going out with Hazel is a breath of fresh air.

Not that Josh and Hazel date. At least, not each other. Because setting each other up on progressively terrible double blind dates means there's nothing between them…right?
 R E V I E W
Josh & Hazel's Guide to Not Dating by Christina Lauren was such a fun read! I literally went into this book not expecting to like it. I had read the sample online and the story hadn't jumped out at me. I am so happy to say that this story was one that shot to my favourites of the year – I know, it is a very small list. I don't think I have read something so enjoyable for so long. I don't even know how to put in words how damn cute and swoon-worthy this book was. Josh & Hazel's Guide to Not Dating is a romance book I will be recommending to absolutely everyone. This is the kind of romance book that makes you giggle and smile at your book. With original characters and a romance that has you screaming at the characters to finally get together. It is truly one of those romance books that I will be highly recommending forever.
Josh & Hazel's Guide to Not Dating follows both Josh and Hazel from a dual perspective. They are two very different people and their interactions throughout the years have not been the most pleasant – one involved Hazel puking all over Josh's shoes. So, they are strictly friends. Friends who may harbour secret feelings for each other but strictly platonic. Until things change. The friendship gets sent into a whirlwind when Hazel moves in with Josh while her house is fixed from a flooding incident. The characters move along with Hazel's whirlwind personality guiding them through. Josh and Hazel even engage in setting each other up on blind dates, which they double date on. These lead to so many genuine laughs out loud moments – something that doesn't happen often for me.
You will never read a more wholesome friendship than Josh honestly. He put up with so much while Hazel was in his house. A man that values a tidy space having a hurricane of the mess known as Hazel and her pooch come in couldn't have been easy. However, he did. He was there for her always and it just warmed my heart. He was such a sweet male interest that he has officially be crafted a spot in my heart. The wholesome love that Josh felt for her overall was just so well done. Christina Lauren created the perfect man and he is not real, dang.
Hazel's personality was hilarious. As a primary school teacher she has to be pretty quirky in a sense, however, this book really took it to another level. She was all over the place and when Hazel and her mum got together, oh my God I couldn't stop reading. I honestly want to re-read this book almost instantly for Hazel alone.
The was a pretty good insertion of friends and family in the story, but unfortunately, I don't remember too much since it was a little while since I read this book and I may have forgotten some things since I read it quite quickly. It is truly such an adorable book.
I know, I've said adorable way too much but it is truly the best descriptor for this book.
I just loved seeing the relationship between the pair form. It was so slow burning but the friendship was absolutely to die for. I've said it before that I don't typically love friends to lovers stories but this one did absolutely amazing.
Josh & Hazel's Guide to Not Dating was incredibly sex positive as well, which I lived!
However, it wasn't perfect. I know, I just have to have a whinge. I thrive on it.
I just really wanted a more concise ending for this story. Josh & Hazel's Guide to Not Dating was done so well and then the ending hit me so unexpectedly. It just felt rushed overall and I was a bit taken aback by how it wrapped up so quickly.
I think the only other thing I can complain about is the fact that I wanted a little bit more of the past between Hazel and Josh. We were told that it was absolutely hilarious and only given a few snippets of what had happened between the pair of them. I just wanted to see more honestly.
Overall, I want to keep this review as sure as possible because I don't even know what to say. This was seriously one of the best romance books I've read and if I can shout it from the rooftops. This is definitely a romance book that would pull you out of a slump as well.
Happy reading everyone!
| Instagram | Twitter | Goodreads |
I am an affiliate for both Book Depository (INTL) & Booktopia (AUS & NZ). Using my links gives me a 5% commission from your order at no expense to you. I would love if you chose to use my affiliate links to shop at these stores! Click on the links provided here to shop. My Book Depository ID – what you add to the end of a URL – is AMBSBLOGREADS.  
*links used in this review are affiliate links*