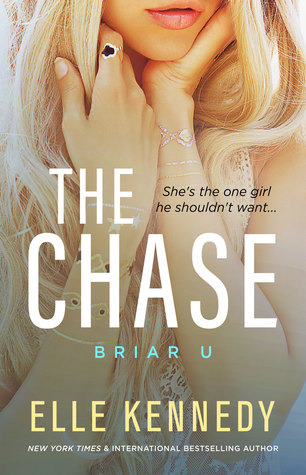 | Amazon |
Rating: ★★☆☆☆
Release Date: August 6th, 2018
Dates Read: August 11th, 2018 – August 11th, 2018
Trigger Warnings: sexual assault, mentions of a messy family divorce, ableist language 
Pages: 377
Publisher: Elle Kennedy Inc
Genre: contemporary, romance, new adult 
Goodreads blurb:
Everyone says opposites attract. And they must be right, because there's no logical reason why I'm so drawn to Colin Fitzgerald. I don't usually go for tattoo-covered, video-gaming, hockey-playing nerd-jocks who think I'm flighty and superficial. His narrow view of me is the first strike against him. It doesn't help that he's buddy-buddy with my brother.

And that his best friend has a crush on me.

And that I just moved in with them.

Oh, did I not mention we're roommates?

I suppose it doesn't matter. Fitzy has made it clear he's not interested in me, even though the sparks between us are liable to burn our house down. I'm not the kind of girl who chases after a man, though, and I'm not about to start. I've got my hands full dealing with a new school, a sleazy professor, and an uncertain future. So if my sexy brooding roomie wises up and realizes what he's missing?

He knows where to find me.
 R E V I E W 
The Chase by Elle Kennedy was more disappointing than I like to admit. For some reasons I had high hopes for this book, despite the fact that I have been disappointed by most of this authors work. This also includes the series she writes with another author under the name Erin Watt. The Chase was a fake woke feminist attempt. It had so many problems and just lacked overall depth throughout the whole book. It was funny, I'll give it that, but with the word 'crazy' being used regularly and as a nickname for the main character of this book was basically doomed.
The Chase switches between Summer and Fitzy, two students who attend the same college. I can definitely say that there was chemistry between the two, but so many events happen throughout the book that left me not even wanting them to be a couple. Hell, the first interaction they have in the book Fitzy is talking shit about Summer to a friend and making it abundantly clear he is not interested in her. I'm still so sad as well because forced proximity is my favourite trope and it was shit on by this book.
Colin Fitzgerald is a hockey player. I'm not sure if he is a good hockey player at all, really can't tell you. However, he is incredibly passionate about video games and design. Throughout the novel, he has even designed his own video game, which is, he is sending to developers in hopes of getting a job once graduation comes around. There really isn't too much else to Fitzy. He is a relatively boring character throughout the whole book and there truly is no stand out about him.
Summer is where my problems with this book begin. I would basically define her as a white feminist. One, because she is white (and rich) and two, because the only effort she makes is to think 'girl power' once before ripping another girl to shreds. Totally cute! I'll rant more about that later. Summer is the sister of one of Fitzy's friends – which you can learn all about in the authors other new adult series. And thanks to some unfortunate events Summer has transferred to Briar and needs a place to stay. Summer's brother pulls some strings and has her room with Fitzy and two other friends. The romance between Fitzy and Summer is a mess, with both of them going on 'dates' with other people despite their feelings for one another. It was honestly frustrating to read about.
There are honestly so many elements in The Chase and I don't even know where to begin on complaining about them.
I guess I should start with what I liked about this book. Brenna, a girl that Summer meets her first day at Briar. Actually, I take that back. Brenna was the one who used the word 'crazy' the most which is so yikes.
Okay, no, I have the thing I liked! There is ADHD representation throughout this book with a supportive family. Summer's family is very understanding of her learning disability and has always taken the time to make sure she is okay. They also never call her dumb or stupid once throughout the book due to it. It was really nice to see a family unit that understood ADHD and helped the kid as best as they could.
That is where my relationship with The Chase takes a rocky dive.
I think I'll start with my biggest annoyance. The fact I have seen multiple people say that Summer is 'woke' and a 'feminist'. I feel like this is from the part where after seeing Fitzy talk to another girl Summer goes all jealous internally. She has a whole spiel about girl power and how we should love fellow girls instead of tearing them down. Which she then disregards to think about how much she hates this girl and how jealous she is. Hypocrite much? At another stage, she talks about 'radical feminists' that is not what they are. They are misandrist, which means a dislike towards men.
Not only that but in no way is Summer 'woke'. At one stage she has an agreement in fashion history with the girl mentioned from before. Summer states that her icon is Chanel, and the other girl retorts that Chanel has been accused of war crimes so she's not a good icon. Summer is infuriated by this claim and it is so frustrating. Who is Summer to tell someone to ignore war crime allegations against a designer purely because Chanel tried at several things before she became a designer? It was bloody ridiculous.
To follow this point, there are so many references to Selena Gomez. I almost DNF'ed this book because of it. I don't support Selena Gomez at all but Summer was fixated on her. She literally had thoughts that she categorised under Selena Gomez. I'm also sure she states how great Selena Gomez is at one stage. Yes, the woman who produced Thirteen Reasons Why and supports Woody Allen. What a great woman? You can bet I strained a muscle rolling my eyes.
A few little pet hates: the text lingo switched between how people in college/university actually text and the classic 'adult writing text'. It was incredibly frustrating and as if the author couldn't choose a particular style to follow through on. Someone who isn't Native American also uses the term 'spirit animal'. It's 2018, how is this still happening?!
Another massive problem I had with this book was the love triangle sort of thing that arises. Two of Summer's roommates want her, Fitzy and Hunter. Hunter is just a lot more forward about it whereas Fitzy is more reserved. Due to this the relationship between Fitzy and Hunter gets ruined. I'm sure in later books all will be well when Hunter finds himself his own girl but can we not destroy relationships because of a girl? It was just so toxic and really helped push through the undertones of toxic masculinity in this book. Neither Fitzy or Summer even respect Hunter's feelings and basically force the guy out of his house. Which is ridiculous because Summer is the one that led Hunter on and made him think he had a shot. It was just so frustrating and something that was barely looked at in this book due to the fact it isn't Hunter's story.
Overall, The Chase by Elle Kennedy was a straight up mess that I don't recommend to anyone. It does address some relevant themes: sexual assault and men using their position of power to prey on young women. However, it really wasn't handled that well in the text. If you're looking for a college-aged book with sports there are so many better ones floating around the Internet. Elle Kennedy is good with humour but that's about it.
Happy reading everyone!
| Instagram | Twitter | Goodreads |
If you use my Book Depository link I will receive a 5% commission from your order at no expense to you. I would sincerely be grateful if you chose to use it.
The same goes for my Booktopia link, which is a great service for Aus and NZ residents.
*links used in this review are affiliate links*