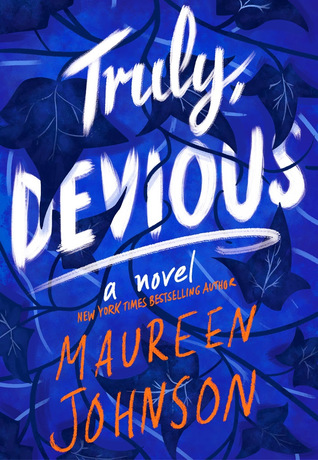 | Book Depository | Booktopia | Amazon |
Rating: ★★★★☆
Release Date: January 16th, 2018
Dates Read: September 20th, 2018 – September 27th, 2018
Trigger Warnings: anxiety, panic attacks, murder, drug mentions, underage drinking
Pages: 416
Publisher: Harper Collins
Genre: young adult, romance, mystery, contemporary 
Goodreads blurb:
Ellingham Academy is a famous private school in Vermont for the brightest thinkers, inventors, and artists. It was founded by Albert Ellingham, an early twentieth century tycoon, who wanted to make a wonderful place full of riddles, twisting pathways, and gardens. "A place" he said, "where learning is a game."

Shortly after the school opened, his wife and daughter were kidnapped. The only real clue was a mocking riddle listing methods of murder, signed with the frightening pseudonym, Truly Devious. It became one of the great unsolved crimes of American history.

True-crime aficionado Stevie Bell is set to begin her first year at Ellingham Academy, and she has an ambitious plan: She will solve this cold case. That is, she will solve the case when she gets a grip on her demanding new school life and her housemates: the inventor, the novelist, the actor, the artist, and the jokester. But something strange is happening. Truly Devious makes a surprise return, and death revisits Ellingham Academy. The past has crawled out of its grave. Someone has gotten away with murder.
 R E V I E W
I picked up Truly Devious at the beginning of 2018 and put it on hold pretty quickly. I was not in the mood at all and the story was falling incredibly flat for me. However, I decided to pick up the audiobook while I travelled to work. Thankfully, that format had me loving this story. I was completely taken aback by the story and the fact that I was incredibly in to the mystery. I accidentally spoiled myself for the ending by reading the blurb of book two (don't do that guys) so that is probably one of my only disappointments.
This was actually my first Maureen Johnson boo. I hear that people absolutely adore her books so I am glad I am able to join that list when it comes to enjoying her books. I don't know if I'll read any more, but we'll see if anything catches my eye.
Truly Devious follows Stevie Bell, a true crime fanatic. She is shunned at her school and viewed as an outcast so when the Ellingham Academy reopens she puts her application in as a joke. She isn't spectacular in any way. Not like some of the kids who attend. Nor is she rich. However, when she gets accepted she is ecstatic. A group of kids who hopefully won't look at her like she is strange. An escape from her parents too. They support a politician she absolutely despises and does not want anything to do with being home. Stevie also wants to solve the Ellingham mystery. Two people murdered, a student and Ellingham's wife, and one missing, Ellingham's daughter. A mystery that has never been solved despite the fact someone was found guilty. The missing answers trap Stevie so completely that when one of her classmates die she is sure they are connected. She is desperate to get to the bottom of it.
I also want to briefly mention you will not find out the answer to the Ellingham mystery in this book. I feel that this will be something that is solved in the final book, with lots of build up.
The mystery element in this book was definitely the most interesting part. Obviously. We experience the current mystery, the death of one of Stevie's classmates, and the Ellingham mystery in a dual sort of perspectives. Flashbacks to original mystery and interviews are included throughout the book. They really set an atmosphere that alluded to the mystery.
I think the biggest part of this book that was well done was the anxiety representation. Stevie Bell suffers from panic attacks and at one point even knocks herself out to avoid one. Iconic. She is also ruthless as heck and despite her anxiety, never lets it hold her back from researching her mystery. I did have some problems with her character – mainly how she treated her parents and I really didn't understand why people thought she was weird for loving true crime.
The romance in this book was absolutely steamy as well. It is not as if anything risqué happens but the chemistry between Stevie and the other character. At the beginning of the book I thought the love interest was going to be someone else, I was definitely not prepared for who it actually was.
Overall, Truly Devious is a mystery novel that truly does leave you wanting more. The mystery of the Ellingham murder is absolutely enchanting and I found myself wishing I could increase my audiobook speed past 2x to get through the story faster. I am disappointed that the mystery wasn't solved in this book but it honestly just makes me have grabby hands for the second book.
Happy reading everyone!
| Instagram | Twitter | Goodreads |
I am an affiliate for both Book Depository (INTL) & Booktopia (AUS & NZ). Using my links gives me a 5% commission from your order at no expense to you. I would love if you chose to use my affiliate links to shop at these stores! Click on the links provided here to shop. My Book Depository ID – what you add to the end of a URL – is AMBSBLOGREADS.  
*links used in this review are affiliate links*