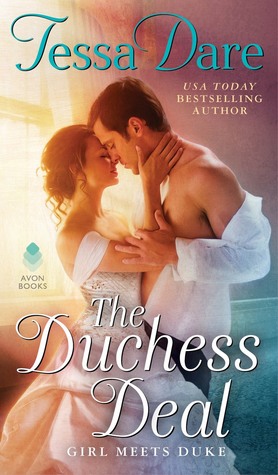 | Book Depository | Booktopia | Amazon |
Rating: ★★★★☆
Release Date: August 22nd, 2017
Dates Read: October 1st, 2018 – October 2nd, 2018
Pages: 389
Publisher: Avon Books
Genre: contemporary, historical fiction, romance
Goodreads blurb:
Since his return from war, the Duke of Ashbury's to-do list has been short and anything but sweet: brooding, glowering, menacing London ne'er-do-wells by night. Now there's a new item on the list. He needs an heir—which means he needs a wife. When Emma Gladstone, a vicar's daughter turned seamstress, appears in his library wearing a wedding gown, he decides on the spot that she'll do.

His terms are simple:
– They will be husband and wife by night only.
– No lights, no kissing. 
– No questions about his battle scars.
– Last, and most importantly… Once she's pregnant with his heir, they need never share a bed again.

But Emma is no pushover. She has a few rules of her own:
– They will have dinner together every evening.
– With conversation.
– And unlimited teasing.
– Last, and most importantly… Once she's seen the man beneath the scars, he can't stop her from falling in love…
R E V I E W
The Duchess Deal by Tessa Dare is a book I picked up purely on my friend Taryn @ Taryn and Her Books recommendation. She loaned it to me when I visited her in July and, despite this review going up in December, I finally got around to reading it in October. I can't believe I put it off so long either. This book had the appropriate steam, romance factor and actual plot running through it. It was basically the trifecta of romance books. I was pretty nervous going in as well that I wouldn't enjoy it, purely because it is a historical romance. Something I had never read before. Taryn assured me that this was a great starting point and boy, was she right.
The Duchess Deal follows Emma and Ash in dual perspectives. The pair is quite different, specifically their standings in the historical setting. Emma is a vicar's daughter who is a seamstress and Ash is a Duke who has returned from war horrifically scarred. It is quite amusing how the pair come together, Emma storming into the Duke's home wearing the wedding dress of his ex-fiancé. It is there that the beginnings of a deal are sorted. Emma will marry Ash on the condition that once she bears him an heir she will be sent to reside in the country. Emma agrees to this, so the whole thing is consensual. The pair is married in a hurry and quickly it is obvious there is something more between the pair. There are the obvious dramas, primarily the fact that Ash is so completely ashamed of how he looks. The scars cover both his face and body, having people on the street even scared to look at him.
In some way, The Duchess Deal reminded me of Beauty and The Beast – except the feeling of Stockholm syndrome didn't plague this story. A man who believes himself to be a beast and a beautiful, education, poor woman. The connections are pretty obvious, but it is also a common theme in books so I didn't place too much on the connection.
I think the only thing I didn't enjoy about The Duchess Deal by Tessa Dare was the male controlling female dynamic. However, that really is just a common theme in historical fiction that I can't whinge about too much. It was the times and authors are trying to fit that dynamic that we know. It is just so frustrating to read about as someone who is a feminist. I hate the idea of a man controlling me.
However, apart from that this book really didn't feel overly like it was a historical fiction. It had parts of it that stood out but the humour and the dialogue felt quite modern in parts. Which honestly made this book all that more enjoyable to read. I genuinely laughed out loud and smiled at the book as I read, which means I am that much more excited to read more books by Tessa Dare.
There was also a network of ladies that befriended Emma that I would love to see more of. They really created a beautiful friendship in this book and I absolutely adored their interactions with each other.
The way the story flowed was incredibly interesting. There were several plots going on within the central plot – Emma and Ash's romance – and the way they all interwove together was a clear highlight of Tessa Dare's skill. It was something that I really enjoyed. The story never felt stagnant and watching the characters grow and come into their personalities was something that made me unable to put the book down. Seeing Ash learn to love himself despite the horror and fear for his appearance that had been drilled into him.
Overall, The Duchess Deal is an incredible book. It will make you swoon and it is an incredibly easy read. You can easily fly through and not even notice the hours passing. I truly do recommend this to most people, it isn't the fluffiest story in the slightest but it is wholesomely enjoyable. There is some slut-shaming within the text that is never outright dealt with, but it does fit the time and the characters personalities who express it.
Happy reading everyone!
| Instagram | Twitter | Goodreads |
I am an affiliate for both Book Depository (INTL) & Booktopia (AUS & NZ). Using my links gives me a 5% commission from your order at no expense to you. I would love if you chose to use my affiliate links to shop at these stores! Click on the links provided here to shop. My Book Depository ID – what you add to the end of a URL – is AMBSBLOGREADS.  
*links used in this review are affiliate links*