Thank you so much to NetGalley and the publisher for providing me with a copy of The Gilded Wolves by Roshani Chokshi. Recieving an eARC of this book did in no way impact my thoughts, feelings or rating.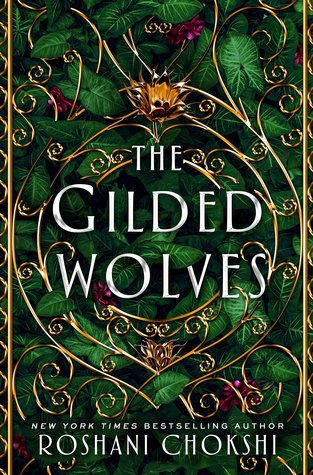 | Book Depository | Booktopia | Amazon |
Rating: ★★★★★
Release Date: January 15th, 2019
Dates Read: October 23rd 2018 to October 27 2018
Pages: 400
Publisher: Wednesday Books
Genre: young adult, fantasy, magic 
Goodreads blurb:
Paris, 1889: The world is on the cusp of industry and power, and the Exposition Universelle has breathed new life into the streets and dredged up ancient secrets. In this city, no one keeps tabs on secrets better than treasure-hunter and wealthy hotelier, Séverin Montagnet-Alarie. But when the all-powerful society, the Order of Babel, seeks him out for help, Séverin is offered a treasure that he never imagined: his true inheritance.

To find the ancient artifact the Order seeks, Séverin will need help from a band of experts: An engineer with a debt to pay. A historian who can't yet go home. A dancer with a sinister past. And a brother in all but blood, who might care too much.

Together, they'll have to use their wits and knowledge to hunt the artifact through the dark and glittering heart of Paris. What they find might change the world, but only if they can stay alive.
R E V I E W 
The Gilded Wolves is one of the first Roshani Chokshi books I have had the pleasure of reading. I absolutely adored this. This is everything I wanted. This book was just fucking iconic. Honestly, if you are struggling to find a book that fits the Six of Crows mould you will need to get your hands on The Gilded Wolves on the day of release. This book has it all; complicated relationships, heists, incredible world building and beautiful writing. I read this book over the period of a few days and wasn't able to really sit down and absorb it for a few days due to work.
The Gilded Wolves follows a group of six characters who have come together in interesting circumstances and are about to partake in a heist – which is what this book follows. Interwoven into the world of Paris in 1889 is magic and just all around fantastic world building as Roshani Chokshi creates the setting. I have never been to Paris and I was obviously not alive in 1889, but the writing and descriptions created an image in my head that was absolutely spectacular. The characters are all so incredibly developed. They are jump off the page and slap you in the face. The humour in The Gilded Wolves and all around character relationships were something I adored, and I am not someone who typically enjoys these things.
This book is one of those stories that feels as if it is both character and plot based, mingling the two in perfect harmony, which is something the author deserves so much credit for. I got major Ocean's 8 vibes in certain parts and was just truly itching to pick it up every chance I got.
I loved Séverin and Tristan's storyline throughout The Gilded Wolves. Séverin is our main character, the leader of our team, and he has protected Tristan for many years and is content to do that. I loved that their relationship and past was shown through flashbacks at the beginning of Séverin's chapters. It really did make it feel as though you were being sucked into a fairytale at times.
I also really loved Zofia and Laila, how their relationship flowed into the book and just overall was shown. Laila sucking in Zofia, who is slightly analytical and just incredibly well written, with baked goods. Laila using her baking as a tactic throughout the book was also just magnificent and such a lovely inclusion from Roshani Chokshi.
My only problem with The Gilded Wolves was the length descriptions of both math and science. I typically skipped over those sections because I am not someone who enjoys or is even good at math or science. It really felt as if it bogged down the story. These went on for pages at a time and I just really could not understand what was being said. I am sure there will be people who adore these sections due to their love and understanding of the subjects but I am not one of those people.
Overall, The Gilded Wolves by Roshani Chokshi has to be one of my favourite books that I read in 2018. It was such an incredible story and I highly recommend it to anyone who loved Six of Crows. There are obviously differences, which are spectacular, and The Gilded Wolves is amazing enough to stand on its own. However, I just really think that Six of Crows fans will fall in love with this one. Hell, anyone who loves heists and great characters will fall in love with this one.
Happy reading everyone!
| Instagram | Twitter | Goodreads |
I am an affiliate for both Book Depository (INTL) & Booktopia (AUS & NZ). Using my links gives me a 5% commission from your order at no expense to you. I would love if you chose to use my affiliate links to shop at these stores! Click on the links provided here to shop. My Book Depository ID – what you add to the end of a URL – is AMBSBLOGREADS.  
*links used in this review are affiliate links*