Thank you so much to NetGalley for providing me with an eARC in exchange for honest review. All thoughts and opinions are my own and receiving a copy did not impact this.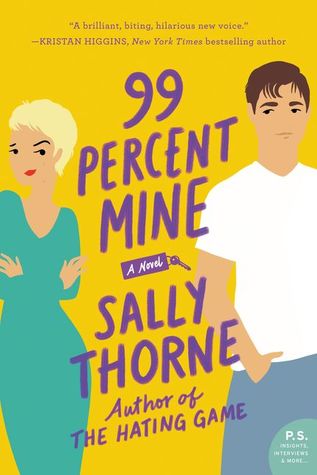 | Book Depository | Booktopia | Amazon |
Rating: ★★☆☆☆
Release Date: January 29th, 2019
Dates Read: November 12th to November 14th, 2018
Buddy Read With: Taryn & Her Books, to see her review click here.
Trigger Warnings: problematic language used throughout, mentions of death, implications of addiction, sexual harassment, ableist language
Pages: 353
Publisher: Hachette Australia
Genre: adult, romance, contemporary 
Goodreads blurb:
Crush: a strong and often short-lived infatuation, particularly for someone beyond your reach…

… If Darcy Barrett hadn't met her dream man when she was eight years old, the rest of the male population wouldn't be such a let-down. No one measures up to Tom Valeska, aka the best man on Earth, not in looks, brain or heart. Even worse is the knowledge that her twin brother Jamie saw him first, and claimed him forever as his best friend.

Tom's off limits and loyal to her brother, 99%. One percent of Tom has had to be enough for Darcy, and her adoration has been sustained by his shy kindness. And if she's honest, his tight t-shirts.

Now Darcy's got three months left to get her life together before her twin insists on selling the tumble-down cottage they inherited from their grandmother. By night, she's working in a seedy bar, shooting down lame pickups from bikers. By day, she's sewing underwear for her best friend and wasting her award-winning photography skills on website shots of pens and novelty mugs. She's enjoying living the messy life, and a glass of wine or ten… until that one night, when she finds a six-foot-six perfect package on her porch.

Tom's here, he's bearing power tools—and he's single for the first time in a decade.

As a house flipper extraordinaire, Tom has been dispatched by Jamie to give the cottage a drastic facelift that will result in a ton of cash. Darcy doesn't appreciate Tom's unsentimental approach to knocking down walls, and he really, really doesn't approve of her current burnout boyfriend. They can't be in the same room together without sparks flying- and it's not the faulty wiring. One bedroom wall separates them at night, and even that's looking flimsy.

Will Tom ever see Darcy as anything other than a little-sister obstacle to get around? And can she stand up to her most formidable opponent—her twin? This time around, she's determined to make Tom Valeska 99 percent hers, and he's never managed to say no to her yet…
R E V I E W
No one was as excited for 99 Percent Mine as I was. I am a massive fan of The Hating Game and knowing that Sally Thorne was releasing another book had me so bloody excited. Especially since I now find myself so beyond in love with the genre of romance. However, this is not how reading 99 Percent Mine went. The title itself plays largely in the book and, ultimately, becomes quite a creepy point. I was uncomfortable whenever it was mentioned. I am so happy I buddy read this book with Taryn @ Taryn Read's Books because this was a mess. Having someone to bounce off while I read this made the experience enjoyable, and we typically agree on most things.
I know that I shouldn't be too hard on 99 Percent Mine by Sally Thorne because this was an ARC and there was a lot of mistakes. The problem is that this book contained a shit tonne of problematic language. It's hard to even describe it because it is so present throughout. It uses the word 'girl' to mean derogatory things and to help the case there was some incredibly ableist language sprinkled out. It also plays into this whole slut-shaming thing where we are meant to hate Darcy – our main character – for having a sexual past.
There was just so much this book did wrong. For starters, I can barely even give you a plot. It's mainly Darcy wanting to run away, Darcy's twin brothers best friend Tom turns up, Darcy decides to help renovate a house thus putting Tom's business in danger and romance. Honestly, sounds like it could be good but it is so poorly written and hard to follow. Again, this was an ARC and I sincerely hope that these things change before it is released to the public because this was not up to scratch in the slightest.
The conflict in this book was also quite ridiculous and in the ARC it is never explained to you as the reader. There are threads that could leave to a big reveal or moment yet Sally Throne just leaves them dangling in the wind to choose a boring path. It was incredibly frustrating as a read as I just expected more from Sally Thorne. She also just completely forgot to include a backstory in the copy I read. I mean, we find out a few things but they never come into play and they also are the reason that we never find out any more information. We never get to know why the main three characters have come together or even truly get to know their personalities. It was infuriating.
Not only that but jealousy was such a key element of this book. If you know me you know I can't stand jealousy or possessiveness, which this book had both off. I mean, the title is literally possessive. It was a major part of Darcy's character and even her twin brother characters. It made it feel incredibly weak. Possessiveness does not need to be a key motivator for a relationship and it just feels wrong. I mean, it could just be me reading into it but if you tell me I can't talk to another male when we aren't even dating (let alone if we are) you're abusive and you can get the fuck out of my life.
I know I'm complaining a lot but there were things I actually enjoyed about 99 Percent Mine. The fact Darcy was unlikeable was great. I love characters who aren't the best people and who have fucked up. I would have liked more character development for her but she was overall incredibly enjoyable. Also would have been nice to see more of her passion for photography to be in the book. It felt like it was low in the level of importance of what Sally Thorne wanted to include in this book.
I also loved Tom. I know we never find anything out about him besides the fact that he has a single mum (it was basically his defining character trait). But, he was so damn sweet and I adored him. I wanted to smooch him. Plus, he was a builder and I just find builders hot.
The witty banter in this book could also keep me alive. It was amazing.
Overall, unless 99 Percent Mine goes through some major editing it will be a flop. It lacks spark, characterisation and just overall consistency. This book is not something I would recommend to anyone in the state that I read it and it is disappointing to say that. There are just so many flaws and it is so hard to look past them when it is the entire book.
Happy reading everyone!
| Instagram | Twitter | Goodreads |
I am an affiliate for both Book Depository (INTL) & Booktopia (AUS & NZ). Using my links gives me a 5% commission from your order at no expense to you. I would love if you chose to use my affiliate links to shop at these stores! Click on the links provided here to shop. My Book Depository ID – what you add to the end of a URL – is AMBSBLOGREADS.  
*links used in this review are affiliate links*