Thank you so much to the publisher for approving me for an eARC of Can't Escape Love by Alyssa Cole. All thoughts and opinions stated throughout the review are my own and are no way impacted by receiving a copy of the book.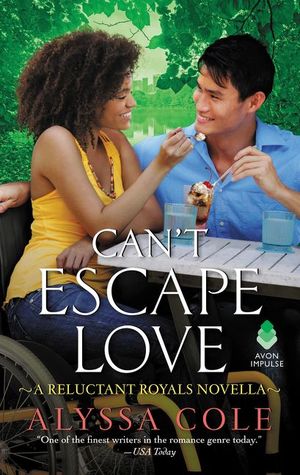 | Amazon |
Rating: ★★★★☆
Release Date: March 19th, 2019
Dates Read: March 12th, 2019
Pages: 128
Publisher: Avon Impulse  
Genre: contemporary, romance, adult 
Goodreads blurb:
Regina Hobbs is nerdy by nature, businesswoman by nurture. She's finally taking her pop culture-centered media enterprise, Girls with Glasses, to the next level, but the stress is forcing her to face a familiar supervillain: insomnia. The only thing that helps her sleep when things get this bad is the deep, soothing voice of puzzle-obsessed live streamer Gustave Nguyen. The problem? His archive has been deleted.

Gus has been tasked with creating an escape room themed around a romance anime…except he knows nothing about romance or anime. Then mega-nerd and anime expert Reggie comes calling, and they make a trade: his voice for her knowledge. But when their online friendship has IRL chemistry, will they be able to escape love?
R E V I E W
I was beyond excited to read Can't Escape Love by Alyssa Cole. I am truly a massive fan of both royalty and this series. Truly, I can't get enough and being approved for Can't Escape Love and Prince on Paper (review coming) in the same email made my month.
Can't Escape Love follows Reggie, Portia's twin sister, and Gustave, a character we have never met before. This incredibly short novella follows the pair through a whirlwind romance that began years ago when Reggie watched Gustave's puzzles videos – I know, I was intrigued too and wanted to see them. The characters are straight up nerds, which is always the sweetest thing. They find themselves bonding over an anime that Reggie is knowledgeable about and Gus has a project about. Not only that, but the pair are both disabled and it is barely even mentioned throughout the story. I mean, how fabulous is the cover, for a second? A black female heroine in a wheelchair? Like, sign me the fuck up.
This particular storyline seems to happen while Portia's is also taking place in Scotland, so I would definitely not recommend reading Can't Escape Love if you haven't at least read Duke by Default in the series.
My only complaint about Can't Escape Love was that the story moved fast. I know that it was only a novella and definitely not the longest story, however, I really just didn't like how fast the love story seemed to appear. That is me being incredibly picky though, I do just love a good slow burn relationship and at the time of reading this I had just finished Prince on Paper and was expecting something similar – fun fact, the novellas in this series are the only books which don't feature royal heroes.
In conclusion, I'm going to keep this review short since this was only a short story. It was incredibly enjoyable and Alyssa Cole truly does know how to write incredible pop culture references and characters. I would die if her and Talia Hibbert paired up, they would be a kickass writing duo I think. I truly recommend The Reluctant Royals series to literally everyone. It is incredibly fun and always is accompanied by a range of diverse characters. The humour in these books is also straight up fantastic.
Happy reading everyone!
| Instagram | Twitter | Goodreads |
I am an affiliate for both Book Depository (INTL) & Booktopia (AUS & NZ). Using my links gives me a 5% commission from your order at no expense to you. I would love if you chose to use my affiliate links to shop at these stores! Click on the links provided here to shop. My Book Depository ID – what you add to the end of a URL – is AMBSBLOGREADS.  
*links used in this review are affiliate links*