Thank you so much to the publisher for approving me for an eARC of Prince on Paper by Alyssa Cole. All thoughts and opinions stated throughout the review are my own and are no way impacted by receiving a copy of the book.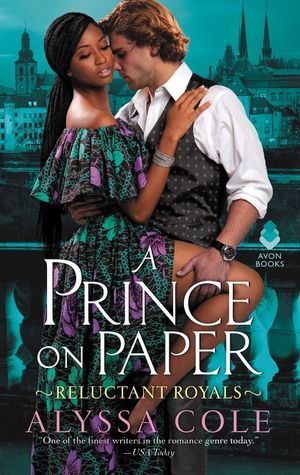 | Book Depository | Booktopia | Amazon |
Rating: ★★★★☆
Release Date: April 30th, 2019
Dates Read: March 10th – March 11th, 2019
Trigger Warnings: abuse, parental abuse (off page but applied), dead parents
Pages: 384
Publisher: Avon
Genre: adult, romance, contemporary 
Goodreads blurb:
Nya Jerami fled Thesolo for the glitz and glamour of NYC but discovered that her Prince Charming only exists in her virtual dating games. When Nya returns home for a royal wedding, she accidentally finds herself up close and personal—in bed—with the real-life celebrity prince who she loves to hate.

For Johan von Braustein, the red-headed step-prince of Liechtienbourg, acting as paparazzi bait is a ruse that protects his brother—the heir to the throne—and his own heart. When a royal referendum threatens his brother's future, a fake engagement is the perfect way to keep the cameras on him.

Nya and Johan both have good reasons to avoid love, but as desires are laid bare behind palace doors, they must decide if their fake romance will lead to a happily-ever-after.
R E V I E W
I have adored The Reluctant Royal series since I first picked up A Princess in Theory by Alyssa Cole last year. This series has filled every mushy and giggly part of my soul. It has also made my dream of being a princess until I was 10 feel like it could still be possible – hey, don't judge me. A Prince on Paper was no different. We still get glimpses of the couples from previous books, which are all fantastic, but this newest couple may be my favourite of the series yet.
A Prince on Paper follows Johan von Braustein, step-prince to the king of Liechtienbourg – never make me spell that again, because wow I am hopeless – who is known to be a star in the eyes of the paparazzi and Nya Jermai who fled Thesolo after the crimes of her father were revealed and she was allowed to become free and live a life away in New York, however she has worked out it isn't all it's cracked up to be and is content to remain with her two friends and her virtual dating games.
Johan and Nya are thrust together as they head to Thesolo for the wedding of their mutual friends. However, tension is strong from the first moment they interact on the plane. Sparks fly and I was 100% rooting for the characters from their first interaction. A Prince on Paper definitely allows for angst and a bit of enemy to lovers plotline. Johan and Nya definitely do not get along in their first interactions and considering they are both desperately trying to avoid love, for good reason, they believe they'll be fine as they embark on a fake relationship to help Johan's family win the referendum that is happening in their country at the moment, one that could unseat the royal family and push Johan's younger sibling off the throne. Something about A Prince on Paper reminded me of The Princess Trap by Talia Hibbert and I think that speaks wonders for Alyssa Cole's writing since I have made it absolutely clear that I adore Talia Hibbert.
I absolutely adored this book. There was just so much going on at all times. With Johan dealing with the grief of his mother's death anniversary and Nya trying to ignore the manipulation of her father who is currently in prison, plus the media publications that throw the world in a storm. It was all just so much and truly kept the story chugging along to the point that I could not put it down. I made sure to finish this before I started a late shift at work and it was 100% worth it.
There was also a non-binary character present in this novel that I loved! I loved watching Nya become close with them and how they interacted together. Ultimately, I wish they had been given more page time but I can also dream that Alyssa Cole will add just one more book for them.
A Prince on Paper was steamy too. The sex scenes that occurred in this book, woo. Let me get a fan because damn, hot.
Johan was also an amazing male character. I found that the other male heroes had all had some kind of jealous trait? I don't think I've described that right. My point is, Johan had a heart of gold and cared for people so deeply. I wish that had been explored a little more because it would have been an interesting storyline to take.
I think the only thing that was a miss for me in this book was the epilogue. I won't say too much on it, because obvious spoilers, but it just wasn't a conclusion I was a fan of. Especially considering the time jump wasn't that substantial. That could just be me though, I'm sure there are many people who will love it.
Overall, A Prince on Paper was such an atmospheric read with headstrong main characters. I loved all the side plot points and the descriptions of the fictional worlds. I was truly swept up by wanderlust in this series and I would love if Alyssa Cole wrote a spin-off series or more in the royalty kind of plot lines. I truly feel so blessed I was able to read an eARC of A Prince on Paper because now I get to shout about it until release date and hopefully inspire others to either start this series or read this particular book.
 Happy reading everyone!
| Instagram | Twitter | Goodreads |
I am an affiliate for both Book Depository (INTL) & Booktopia (AUS & NZ). Using my links gives me a 5% commission from your order at no expense to you. I would love if you chose to use my affiliate links to shop at these stores! Click on the links provided here to shop. My Book Depository ID – what you add to the end of a URL – is AMBSBLOGREADS.  
*links used in this review are affiliate links*