Thank you so much to Hachette Australia Publishing for sending me a full copy of The Boy Who Steals Houses by CG Drews. Receiving a copy of the book did in no way impact any thoughts or feelings I had. All opinions are my own.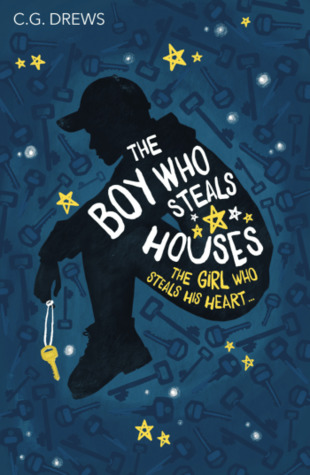 | Book Depository | Booktopia | Amazon |
Rating: ★★★☆☆
Release Date: April 4th, 2019
Dates Read: March 7th, 2019
Trigger Warnings: grief, death of a parent abandonment of a parent, stealing, theft, serious bodily injury, emotional abuse, physical abuse, mentions to abuse, graphic violence, underage drinking, mentions of drugs, ableist comments, assault, ptsd, mentions of cancer
Pages: 300
Publisher: Hachette Australia
Genre: young adult, contemporary 
Goodreads blurb:
Can two broken boys find their perfect home?

Sam is only fifteen but he and his autistic older brother, Avery, have been abandoned by every relative he's ever known. Now Sam's trying to build a new life for them. He survives by breaking into empty houses when their owners are away, until one day he's caught out when a family returns home. To his amazement this large, chaotic family takes him under their wing – each teenager assuming Sam is a friend of another sibling. Sam finds himself inextricably caught up in their life, and falling for the beautiful Moxie. 

But Sam has a secret, and his past is about to catch up with him.
R E V I E W
The Boy Who Steals Houses was a book I was interested from the get-go. Especially after reading CG Drews debut novel. A large amount of the book community is aware of who Paper Fury is and is anxious to support her novels that are coming out. It is always fantastic when someone in the community begins to write and it's good. I feel it is an insult that this book is likened to that of Jennifer Nivens, she wishes she could write to the level of CG Drews. The Australian author has a way of encompassing emotion in every part of the novel, as well as bringing in large factors of abuse and including representations (in this book we have autism and a stutter from the main character and his older brother).
This particular book starts with Sam breaking into a house, or stealing a house as he calls it. It is there that his brother, Avery, finds him and we establish the relationship between the pair. Sam has taken care of Avery their whole lives as best as they could as so many people don't understand his autism and simply believe he is acting childish. Avery loves his brother though and only wants the best for him – aka a house. However, the pair are 17 and 15 and since I presume this book is set in Australia, are unable to rent a house.
The siblings have a complicated relationship, that is incredibly clear. It felt authentic, similar to the sibling relationship in A Thousand Perfect Notes. This becomes even clearer when Sam finds himself in the mix of a whole other family.
Moxie is apart of a big family. A family of six kids and is the only girl. Her mother passed away and she has had to step into the role as the fact there is a baby and toddler in the family. When they discover Sam in their house after he spends the night, them unknowing to this, they simply presume he is someone's friend and invites him for lunch.
This book has so many layers, I don't even know where to begin. Sam is on the run from the police for one thing which is bloody wild, in my opinion. There are flashbacks to the sibling's childhood and that is a straight up mess of abuse that left me quite triggered.
The Boy Who Steals Houses is a book that will clearly divide people. It isn't even out as I write this review but I know there will be people who love it and others who don't care for it. It is an interesting standpoint when you can see why people would both love and hate a book, but also one I enjoy. It is clear that a lot of these characters aren't developed too well and CG Drew seems to get lost in their own storylines sometimes as there are way too many plots in certain parts – and they all come crashing down at one point.
Another thing is that CG Drew is very clearly the same person who wrote A Thousand Perfect Notes. The books almost read the exact same and it was slightly dull at times, still had me crying but was a bit frustrating as it felt I was reading the same book with just some different character names slapped on it.
In conclusion, if you are looking for a happy book with a nice and clear ending do not pick up this book. You will only be left with tears and more questions, something I tend to dread when reading. I was hoping for more throughout this book but it doesn't mean that I still didn't enjoy it. I will still recommend it but I just hope that this author does something new with her third book that doesn't feel like a repeat.
Happy reading everyone!
| Instagram | Twitter | Goodreads |
I am an affiliate for both Book Depository (INTL) & Booktopia (AUS & NZ). Using my links gives me a 5% commission from your order at no expense to you. I would love if you chose to use my affiliate links to shop at these stores! Click on the links provided here to shop. My Book Depository ID – what you add to the end of a URL – is AMBSBLOGREADS.  
*links used in this review are affiliate links*