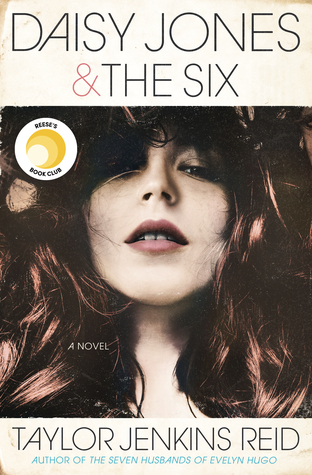 | Book Depository | Booktopia | Amazon |
Rating: ★★☆☆☆
Release Date: March 5th, 2019
Dates Read: March 17th – March 19th, 2019
Trigger Warnings: HEAVY drug use, abortion, mentions of rehab, mentions of cheating, abortion, addiction
Pages: 368
Publisher: Ballantine Books
Genre: adult, contemporary
Goodreads blurb:
Everyone knows Daisy Jones & The Six, but nobody knows the reason behind their split at the absolute height of their popularity . . . until now.

Daisy is a girl coming of age in L.A. in the late sixties, sneaking into clubs on the Sunset Strip, sleeping with rock stars, and dreaming of singing at the Whisky a Go Go. The sex and drugs are thrilling, but it's the rock and roll she loves most. By the time she's twenty, her voice is getting noticed, and she has the kind of heedless beauty that makes people do crazy things.

Also getting noticed is The Six, a band led by the brooding Billy Dunne. On the eve of their first tour, his girlfriend Camila finds out she's pregnant, and with the pressure of impending fatherhood and fame, Billy goes a little wild on the road.

Daisy and Billy cross paths when a producer realizes that the key to supercharged success is to put the two together. What happens next will become the stuff of legend.

The making of that legend is chronicled in this riveting and unforgettable novel, written as an oral history of one of the biggest bands of the seventies. Taylor Jenkins Reid is a talented writer who takes her work to a new level with Daisy Jones & The Six, brilliantly capturing a place and time in an utterly distinctive voice.
R E V I E W 
Daisy Jones & The Six by Taylor Jenkins-Reid was a book I really did expect to love. The hype surrounding its release on Twitter was kind of insane and I really expected to adore it as much as I adored The Seven Husbands of Evelyn Hugo. That was not the case. It wasn't that Daisy Jones & The Six was necessarily a bad book. It was just lacklustre and in no way deserving of the hype it was receiving on social media in my opinion.
Daisy Jones & The Six follows the career of The Six (a band) and Daisy Jones (solo artist), showing how the two came together and how absolutely catastrophic it was for everyone's careers. The Six was a hardworking band, with Billy as the front man. The band had worked their way up the charts and was pushing hard to get into a solid rock position. When Daisy Jones, a girl with a voice and absolutely no training, comes along and throws the band into a whole new dynamic. However, the band now has two people who love the spotlight (Billy and Daisy) and sometimes the stage is just not big enough for two egos that big.
This book focuses a lot on addiction. I mean, I guess it is not unusual for bands to find themselves addicted to drugs considering they are incredibly accessible and when people have gone from nothing to something they sometimes struggle with the money. Addiction is something that hits incredibly close to home for me and I think Taylor Jenkins-Reid handled the sensitive subject well. She showed the darkness of it and how it is something that takes over your life. It starts with one small thing but it can slowly grow and grow. It was incredibly triggering to me though, how casually and frequently drugs are used. I was not expecting it to be mentioned on almost every single page, so I do want that to be a massive warning to anyone. It left me feeling ill at some stages and having to put the book down and go for a walk. Considering how often everyone was using – especially Daisy – I truly am not a single character in this book overdosed.
I loved the female relationships in this book as well. I think that is one thing that the author did incredibly well. The relationships between the men in this book were basically non-existent, but she really did put time and effort into developing each female character and making sure the relationship between them was incredibly supportive.
The other really important thing I liked was the mention of abortion. I won't say who gets the abortion but I really appreciated it being shown as a choice by the female character and something she won't let the male character interject in. It was incredibly amazing to see something like that on paper – or screen, considering I read it on my kindle.
I guess it is clear by my two-star rating that I did not enjoy Daisy Jones & The Six. I think one of my biggest problems was the relationship between Camilla and Billy, they've been together for years and when he goes on tour he ends up cheating on her? Um, okay. When she finds out she doesn't dump his ass and take her pregnant self elsewhere, she tells him he can do whatever he wants but after the baby is in the world he needs to be a dad. Okay? I would so not be happy with that. It was incredibly frustrating. No matter what Billy did wrong – and boy did he do a lot wrong – Camilla stood by his side. I get that is the foundation of a strong relationship but considering this book was pushing a very feminist message I felt it took away from it. Especially considering the storyline between Daisy and Billy.
My biggest problem with this book was the way it was written. I feel that maybe with an audiobook with a full cast it may work better, however, physically reading it was an incredibly big drag. I was left confused half the time on who was talking and wondering what the heck was happening. Literally, every character sounded the same and only having their dialogue made it hard to get the depth between the characters and the relationships they shared. Additionally, almost every recount of the story was different which made it even harder for me to focus. I like my stories to be linear and I just kept getting more and more confused the more the book went on. I really think this would have been better told in strict prose. It would have made the story run incredibly smoother.
Overall, Daisy Jones & The Six was not the book for me. I was not impressed with almost anything in this book – apart from Karen. The relationships between the characters were lacking and the fact this was told in the future meant that none of these characters had seen each other for many years either – which proved further how lacklustre this story was. I would still recommend this book if you love the nitty-gritty side of the rock star world. However, I think the best way to consume this story is definitely audiobook. So, if you have access to the story in that way or enjoy audiobooks, jump on it and let me know how you enjoyed it.
Happy reading everyone!
| Instagram | Twitter | Goodreads |
I am an affiliate for both Book Depository (INTL) & Booktopia (AUS & NZ). Using my links gives me a 5% commission from your order at no expense to you. I would love if you chose to use my affiliate links to shop at these stores! Click on the links provided here to shop. My Book Depository ID – what you add to the end of a URL – is AMBSBLOGREADS.  
*links used in this review are affiliate links*