Thank you so much to the publisher for kindly gifting me an eARC of Red, White, & Royal Blue. Receiving a copy of this book did in no way impact my thoughts or feelings on the book. All opinions are my own.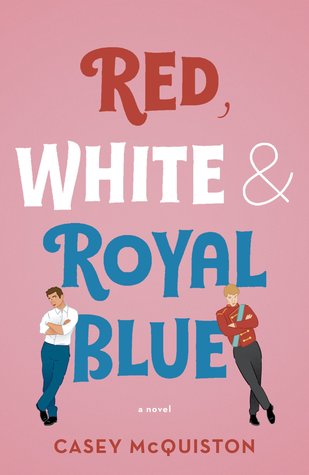 | Book Depository | Booktopia | Amazon |
Rating: ★★★★★
Release Date: May 14th, 2019
Dates Read: March 25th – March 26th, 2019
Trigger Warnings: being outted, mentions of attempted rape, mentions of rehab
Pages: 432
Publisher: St. Martin's Griffin
Genre: new adult, contemporary, romance
Goodreads blurb:
A big-hearted romantic comedy in which First Son Alex falls in love with Prince Henry of Wales after an incident of international proportions forces them to pretend to be best friends…

First Son Alex Claremont-Diaz is the closest thing to a prince this side of the Atlantic. With his intrepid sister and the Veep's genius granddaughter, they're the White House Trio, a beautiful millennial marketing strategy for his mother, President Ellen Claremont. International socialite duties do have downsides—namely, when photos of a confrontation with his longtime nemesis Prince Henry at a royal wedding leak to the tabloids and threaten American/British relations.

The plan for damage control: staging a fake friendship between the First Son and the Prince. Alex is busy enough handling his mother's bloodthirsty opponents and his own political ambitions without an uptight royal slowing him down. But beneath Henry's Prince Charming veneer, there's a soft-hearted eccentric with a dry sense of humor and more than one ghost haunting him. 

As President Claremont kicks off her reelection bid, Alex finds himself hurtling into a secret relationship with Henry that could derail the campaign and upend two nations. And Henry throws everything into question for Alex, an impulsive, charming guy who thought he knew everything: What is worth the sacrifice? How do you do all the good you can do? And, most importantly, how will history remember you?
R E V I E W
Red, White & Royal Blue by Casey McQuiston is a book that deserves every single piece of hype it is currently receiving. When this book finally releases I want to see it hit the NYT Bestseller list. Hell, I've already preordered my copy and I've read the book. This review is going to be incredibly short because it is straight up just going to be me gushing. I am so here for Red, White & Royal Blue and I really thought I would hate this book. I know, how could I possibly hate Alex and Henry – two of the most amazing main characters I have ever read? This book was filled with healthy relationships and banter, I was so damn happy. It involved some mentions of politics in England and America and as an Australia, they went over my head, but oh well.
So, what is this fantastic book about? Alex is the son of the president of America, she is the first female president ever. That was pretty awesome to read about, honestly. She is about to go up for re-election (look, I don't know America, okay, I don't know the words) and Alex and his sister, June, and their best friend, Nora, will be helping campaign with her. The trio is tight as tight can be and have such an incredible relationship. Honestly, Alex and Nora had dated at one stage but they are now still friends, which I adore. However, after a tussle at the wedding of an English Prince Alex is now forced to spend time with her arch nemesis, another English Prince. Sparks fly, obviously, as the Alex begins to fall in love without even realizing his sexuality. The pair obviously struggle due to them both technically being in positions of power in other countries – as well as Alex having dreams of being in Congress (I really don't know American terminology, I think we call it parliament? Help).
Basically, the only thing I didn't like about this book was the formatting of the eARC. It would cut to random days with no warning and I was left confused occasionally on how it would flow before realizing it was the start of a whole new scene. I read somewhere that the physical arc isn't like that but I just wanted to mention it since it did take away from my reading experience a little bit.
Apart from that, I have nothing bad to say about Red, White & Royal Blue which is something incredibly rare for me. I usually always have one pet peeve but this book, wow. I did not want to put it down and when I did have to do for work I think I almost cried. This book was a book that felt like a nice hug. I will mention here as well this is not young adult, it is definitely new adult. I know it will probably be marketed as young adult, but this is definitely not the case.
The characters dynamics were perfect. I loved the friend's dynamics and how they all came together. I loved Henry's mum. I loved Henry's sister. I loved Alex's family and how completely accepting they were. I loved how they all accepted each other and how they came together in complete support. We deserve books on every person in this clique and I won't die until I get it.
Overall, I really don't want to say too much about Red, White & Royal Blue because spoilers and I am not about to spoil this fantastic book for anyone. I beg everyone to pick this one up because I swear to God this book will not let you down. You will be so damn happy, I promise. There is intense drama, so it is not a fluffy story, but there didn't feel like there was any unnecessary drama between the romance which was fantastic.  
Happy reading everyone!
| Instagram | Twitter | Goodreads |
I am an affiliate for both Book Depository (INTL) & Booktopia (AUS & NZ). Using my links gives me a 5% commission from your order at no expense to you. I would love if you chose to use my affiliate links to shop at these stores! Click on the links provided here to shop. My Book Depository ID – what you add to the end of a URL – is AMBSBLOGREADS.  
*links used in this review are affiliate links*