Thank you so much to the publisher for approving me for an eARC of Prince on Paper by Alyssa Cole. All thoughts and opinions stated throughout the review are my own and are no way impacted by receiving a copy of the book.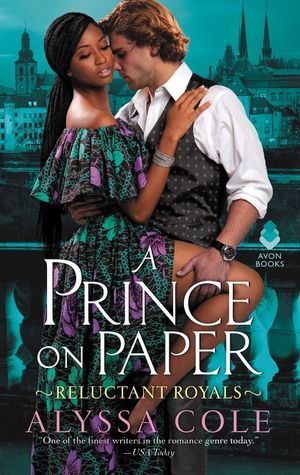 | Book Depository | Booktopia | Amazon |
Rating: ★★★★☆
Release Date: April 30th, 2019
Dates Read: March 10th – March 11th, 2019
Trigger Warnings: abuse, parental abuse (off page but applied), dead parents
Pages: 384
Publisher: Avon
Genre: adult, romance, contemporary 
Goodreads blurb:
Nya Jerami fled Thesolo for the glitz and glamour of NYC but discovered that her Prince Charming only exists in her virtual dating games. When Nya returns home for a royal wedding, she accidentally finds herself up close and personal—in bed—with the real-life celebrity prince who she loves to hate.

For Johan von Braustein, the red-headed step-prince of Liechtienbourg, acting as paparazzi bait is a ruse that protects his brother—the heir to the throne—and his own heart. When a royal referendum threatens his brother's future, a fake engagement is the perfect way to keep the cameras on him.

Nya and Johan both have good reasons to avoid love, but as desires are laid bare behind palace doors, they must decide if their fake romance will lead to a happily-ever-after.