Thank you so much to Allen & Unwin Australia for sending me a copy of Before the Devil Breaks You by Libba Bray. All thoughts are my own and receiving a copy of the book in no way impacted my feelings or opinions.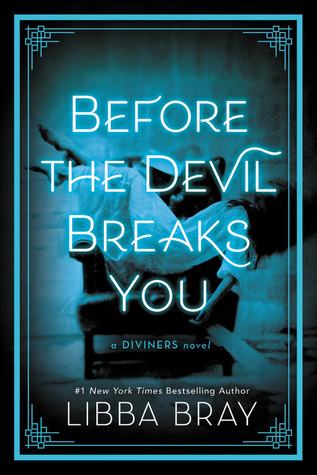 | Book Depository | Booktopia | Amazon |
Rating: ★★★★★
Release Date: October 3rd, 2017
Dates Read: August 10th, 2018 to August 24th, 2018
Trigger Warnings: racism, homophobia, graphic murder, underage drinking, reliability on drinking, sex, domestic violence mentions, grand mal seizures, mentions of torture, assault, attempted rape, experimentation, forced sterilisation mentions
Pages: 552
Publisher: Allen & Unwin Australia
Genre: historical fiction, young adult, romance, paranormal, urban fantasy, magic
Goodreads blurb:
After battling a supernatural sleeping sickness that early claimed two of their own, the Diviners have had enough of lies. They're more determined than ever to uncover the mystery behind their extraordinary powers, even as they face off against an all-new terror. Out on Ward's Island, far from the city's bustle, sits a mental hospital haunted by the lost souls of people long forgotten–ghosts who have unusual and dangerous ties to the man in the stovepipe hat, also known as the King of Crows.

With terrible accounts of murder and possession flooding in from all over, and New York City on the verge of panic, the Diviners must band together and brave the sinister ghosts invading the asylum, a fight that will bring them face-to-face with the King of Crows. But as the explosive secrets of the past come to light, loyalties and friendships will be tested, love will hang in the balance, and the Diviners will question all that they've ever known. All the while, malevolent forces gather from every corner in a battle for the very soul of a nation–a fight that could claim the Diviners themselves.