Thank you so much to the publisher for approving me for an eARC of Can't Escape Love by Alyssa Cole. All thoughts and opinions stated throughout the review are my own and are no way impacted by receiving a copy of the book.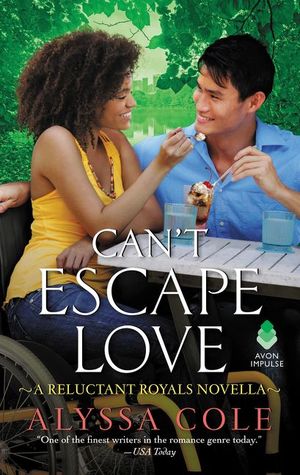 | Amazon |
Rating: ★★★★☆
Release Date: March 19th, 2019
Dates Read: March 12th, 2019
Pages: 128
Publisher: Avon Impulse  
Genre: contemporary, romance, adult 
Goodreads blurb:
Regina Hobbs is nerdy by nature, businesswoman by nurture. She's finally taking her pop culture-centered media enterprise, Girls with Glasses, to the next level, but the stress is forcing her to face a familiar supervillain: insomnia. The only thing that helps her sleep when things get this bad is the deep, soothing voice of puzzle-obsessed live streamer Gustave Nguyen. The problem? His archive has been deleted.

Gus has been tasked with creating an escape room themed around a romance anime…except he knows nothing about romance or anime. Then mega-nerd and anime expert Reggie comes calling, and they make a trade: his voice for her knowledge. But when their online friendship has IRL chemistry, will they be able to escape love?