WARNING: THE BLURB OF THIS BOOK CONTAINS SPOILERS.
Thank you Simon and Schuster Australia for sending me a review copy of Queen of Air and Darkness by Cassandra Clare. Receiving a copy of this particular book did in no way impact my thoughts or feelings in this review.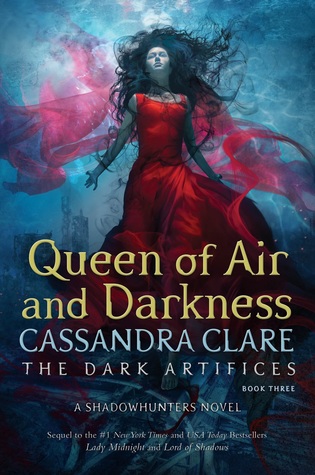 | Book Depository | Booktopia | Amazon |
Rating: ★★★★★
Release Date: December 4th, 2018
Dates Read: December 4th to December 7th, 2018
Buddy Read with: Alexandra, Mel & Solomon
Trigger Warnings: grief, self mutilation, death, war, murder
Pages: 912
Publisher: Simon & Schuster Australia
Genre: young adult, fantasy, urban fantasy, magic, romance
Goodreads blurb:
What if damnation is the price of true love?

Innocent blood has been spilled on the steps of the Council Hall, the sacred stronghold of the Shadowhunters. In the wake of the tragic death of Livia Blackthorn, the Clave teeters on the brink of civil war. One fragment of the Blackthorn family flees to Los Angeles, seeking to discover the source of the blight that is destroying the race of warlocks.

Meanwhile, Julian and Emma take desperate measures to put their forbidden love aside and undertake a perilous mission to Faerie to retrieve the Black Volume of the Dead. What they find in the Courts is a secret that may tear the Shadow World asunder and open a dark path into a future they could never have imagined. Caught in a race against time, Emma and Julian must save the world of Shadowhunters before the deadly power of the parabatai curse destroys them and everyone they love.