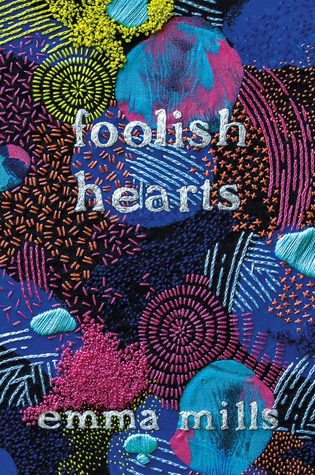 | Book Depository | Booktopia| Amazon |
Rating: ★★★★★
Release Date: December 5th, 2017
Trigger Warnings: panic attack, grand mal seizure mentions
Pages: 320
Publisher: Henry Holt and Co.
Genre: young adult, contemporary, romance
Goodreads blurb:
A contemporary novel about a girl whose high school production of A Midsummer Night's Dream leads her to new friends—and maybe even new love.

The day of the last party of the summer, Claudia overhears a conversation she wasn't supposed to. Now on the wrong side of one of the meanest girls in school, Claudia doesn't know what to expect when the two are paired up to write a paper—let alone when they're both forced to try out for the school production of A Midsummer Night's Dream.

But mandatory participation has its upsides—namely, an unexpected friendship, a boy band obsession, and a guy with the best dimpled smile Claudia's ever seen. As Claudia's world starts to expand, she finds that maybe there are some things worth sticking her neck out for.
R E V I E W 
I went into Foolish Hearts with literally no expectations. I didn't know what I was going to get from this book but I figured a YA contemporary was something that would help me pass the time until I worked out what I did want to read. I was so wrong. This book is a masterpiece. I read it incredibly quickly (two days, only because my mum was home from work and I was spending time with her). Foolish Hearts by Emma Mills is a book that grabbed me by the heartstrings and has managed to worm its way into my top ten books of 2018. I know I said that in my review for The Kiss Quotient but this June I am reading so many amazing books. This book was so damn fluffy that it made my heart squeeze on almost every page.
Foolish Hearts is told from the perspective of Claudia, who attends an all-girls private school. This is meant to be a great year for her but things go wrong fast. Claudia finds herself on the wrong side of the meanest girl in school, Iris, and to her luck finds herself working with Iris on a paper. The paper goes terribly and to make up the grade the pair is required to audition for the school production that is being put on with the neighbouring all boys' school. Due to this production, an unlikely friendship arises, an obsession with a boy band and a love story that still makes my heart skip a beat looking back on it. That isn't all Foolish Hearts contains though. Oh, no, there is more! There is a healthy male friendship, realistic family relationships and a character who experiences grand mal seizures (more on this later). This book really had all my favourite elements included. I did have a few problems with this but honestly, most of them are personal and things that popped up during my experience reading Foolish Hearts.
Now, enough of almost spoiling y'all time to get down to my favourite and least favourite things about Foolish Hearts.
what I liked
✗ SWEET ROMANCE
The romance in this book was one of the sweetest I have ever seen. The characters truly act their age and feel as if they are organically growing into this relationship. Nothing felt forced and it was all just honestly so darn sweet. Both Gideon and Claudia feel so authentic and watching them come together and fall for each other really did give me, a cynic, butterflies.
✗ GRAND MAL SEIZURE MENTION
I've mentioned this in a few reviews but my mum experiences grand mal seizures due to a domestic violence relationship. It's scary and epilepsy kills the same amount of people as breast cancer each year. The representation of this is pretty brief in the novel but I picked up on it early on and it meant so much to me that it was included.
The book also makes sure to mention that he can't drink as it can cause seizures – I recently learnt this from several doctors and a neurologist. I felt that the information that was included was well done.
✗ FAMILY DYNAMIC IS PERFECT
I think I make it clear in most reviews that I do that I love seeing a tight knit family in a book. Foolish Hearts has exactly that. Claudia has an older brother and sister, as well as a brother-in-law. She relies on all three of them to support her, as does everyone else. Everyone fights but at the end of the day they would all do anything for each other, it is beyond clear in the way they communicate.
Not only did Claudia have a great family dynamic but so did Gideon. He has a younger sister and as someone who has a younger sister, she is everything. She's annoying but definitely has her big brothers back in a way that had me laughing so hard at my Kindle.
✗ FRIENDSHIPS ARE AUTHENTIC
A lot of times in books friendships can feel underdeveloped. This wasn't a problem in Foolish Hearts. Both Claudia and Gideon had their own friendships which were very well developed throughout the book. I want to speak about Gideon's friendship with Noah. The boys have been friendships since birth basically and support each other so much. I don't think this is a spoiler, but look away if you don't want it, but Noah is actually the character who has grand mal seizures. Gideon tries to keep Noah safe no matter what and it was honestly so damn sweet and authentic. Some of the reactions and conversations were ones I have had with my own mother.
Claudia doesn't have as many friends. Her best friend Zoe not really being in the book. We get a real focus on Claudia and Iris' friendship as it grows. Iris purely hated Claudia because she heard Iris' girlfriend breaking up with her. However, that isn't used for any drama throughout the novel.
what I didn't like
✗ THE BEGINNING KIND OF THREW ME OFF THE CHARACTERS
At the beginning of the book, we meet Gideon and he's basically flirting up a storm. I was pretty confused by this and was 100% expecting a love triangle to unfold before my very eyes in this book, between Claudia, Noah and Gideon. It was really a me problem since I saw something in the text that wasn't there.
✗ I HATE SHAKESPEARE
Again, this is a personal factor. The play that Claudia is working on is Midsummer's Night Dream and I literally can't stand Shakespeare. My eyes glazed over during the parts because I just can't make myself care about it, especially since I finished high school.
Overall, Foolish Hearts by Emma Mills doesn't contain a lot of drama or an overarching message. I know this has some varying reviews but it truly was such a nice and comforting read. Gideon and Claudia were such delightful characters to read. I did find myself crying in some parts (particular Noah telling Claudia he has epilepsy). Foolish Hearts is a story that focuses on friendship and family at its core and I love it.

Happy reading everyone!
 | Instagram | Twitter | Goodreads |
If you use my Book Depository link I will receive a 5% commission from your order at no expense to you. I would sincerely be grateful if you chose to use it.
The same goes for my Booktopia link, which is a great service for Aus and NZ residents.
*links used in this review are affiliate links*